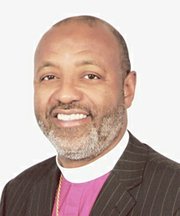 By RASHAD ROLLE
ANGLICAN Bishop Laish Boyd is standing firm on his decision to cancel graduation and prom for the 2013 class of St Johns Anglican School – despite the public outcry and in the face of threatened legal action by the students.
Speaking to The Tribune yesterday, Bishop Boyd said that no decision has been made to reverse the cancellation of St Johns' graduation and prom as previously stated.
Yesterday news also broke that families of St Johns students wishing to participate in a graduation ceremony this year hired Bahamian lawyer, Christina Galanos, to represent them by forcing a reversal of the Anglican Education Board's decision to cancel graduation and prom.
The attorney pointed out that each student has an individual contract with the school that stipulates a graduation ceremony, and that the school must demonstrate exactly how these contracts were broken before it can cancel the event.
She said each student has a legal right to fight for the contract to be enforced.
Ms Galanos said: "From what I've seen, the decision to cancel the graduation was irrational and inconsiderate. My primary objective is to force them to have the graduation and if that doesn't work, our last resort is to get them to refund the money parents paid to the school as graduation fee."
Rumours spread over the weekend claiming that in addition to a prank involving graduates setting their phones off during a special mass and the viral spread of a video of students dancing in a hyper-sexual manner, graduates also orchestrated a "ditch day" when large numbers of the class didn't attend school, claiming they were sick.
Samantha Johnson, a medical student and graduate of the St Johns class of 2006, told The Tribune that as an alumni, she found the decision of the Anglican Education Board to be appropriate.
"The students were being really, really disobedient and I believe the right measures were taken in disciplining them," she said. "They just need to get over it because St. Johns is not a play-play school, but a serious school that is among the top schools in the Bahamas."
"99.9 per cent of the time the students follow the Christian standards set for them, but I've heard rumours that in addition to the lewd video going viral, other things, such as a planned 'sick out day' took place."
"As a former student of St. Johns I was never mistreated and I know the Bishop to be a very compassionate man. Perhaps if the students apologized for their actions the Bishop and his team would change their minds. But graduation is a rite of passage and if they can't follow the rules they deserve to be disciplined.
Yesterday, bishops from other denominations declined to comment to The Tribune about the matter.