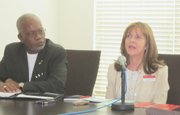 BY DENISE MAYCOCK
Tribune Freeport Reporter
dmaycock@tribunemedia.net
FREEPORT – Barry University will be offering three Masters Degree programmes in Grand Bahama by January 2014, it was announced yesterday.
Dr Jill Farrell, Associate Dean of International Programmes at the Adrian Dominican School of Education at Barry University, made the announcement during a press conference held at the Ministry of Education in Freeport.
The programmes are: MS in Organisational Learning and Leadership (Human Resource Development Degree); MS of Special Education; and MS in Curriculum and Instruction with specialisation in Early and Middle Childhood Education.
The MS in OLL focuses on the needs of organisations that emphasise employee performance improvement through learning.
Educators and professionals are able to specialise in their field of interest.
Curriculum and Instruction (MS) Specialisation in Early and Middle Childhood.
The Master's Degree in Curriculum and Instruction was designed for preschool to 8th grade educators.
The programme has core courses designed to enhance curriculum expertise, pedagogical knowledge, and teacher leadership with an interdisciplinary specialisation which focuses on increasing content area knowledge.
The Exceptional Student Education degree programme offers a comprehensive understanding of various exceptionalities and the acquisition of valuable inclusionary strategies to meet the unique individual needs of children in elementary, middle, and secondary schools.
Dr Farrell said they have received a good response to the programmes in New Providence.
She noted that many educators in the Bahamas are very interested in the MS in Special Education, which was offered in the Autumn.
She also noted that their MS in Organisational Learning and Leadership is really a Human Resources Development Degree.
Veteran educator Donald McCartney said the cost is very reasonable as a 47 per cent discount is being extended to Bahamians.
Ms Farrell indicated that professors will travel to Barry on alternating weekends to lecture.
The programmes are worth 36 credits and students will be able to complete their degrees in two years, she said.
She said Barry is a private Catholic institution of higher education that was founded in 1940 by the Adrian Dominican Sisters.
Mary Cooper, District Superintendent of Schools, said they are very pleased that Barry has decided to come to Freeport to offer programmes in special education for educators.
She added that the Minister of Education fully supports the new programme.