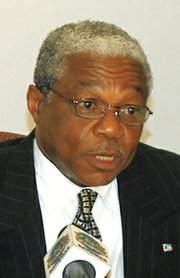 By NATARIO McKENZIE
Tribune Business Reporter
nmckenzie@tribunemedia.net
NATIONAL Security Minister Bernard Nottage said yesterday that he wanted 'Cash for Gold' enterprises to be closed down, a move one operator said would only hurt Bahamians legitimately selling or pawning jewellery to "make ends meet".
During his contribution to the 2013-2014 Budget debate, Mr Nottage said many 'caah for gold' operators war not living up to their responsibilities as outlined in legislation governing the industry.
"There's a lot of crime associated with gold, with people snatching people's gold chains, with people breaking into home and taking their jewellery and stealing," the Minister said.
"When these stores were licensed I think there were certain requirements they were required to meet when they exchanged money for gold. My information is they are not living up to those responsibilities when they exchange money for gold, and so the person who is selling you something ought to prove they are the owners of it. Bring receipts to show they paid for it before you can do a legitimate business exchange with them - that is not happening."
But Cheldin Brown, operator of Bahamas Gold Trading, told Tribune Business: "I have two stores and I have a good relationship with the police, but if other people are out there buying stolen jewellery there's nothing we can do about it.
"Before you call for our businesses to close down you should at least have a Town Meeting or a private meeting with 'cash for gold' owners to try and solve the crime.
"You have to take into consideration that we are businesses, we have bills to pay and family to take care of, so how could you just jump and take the bread out of our mouth just like that. We never had one meeting with the Commissioner of Police or the Minister of National Security about the issue or anything at all."
Mr Brown added: "A lot of people hear the negative rap bit, not the positive. The jewellery is basically always here, so if the police want to check and see if it's stolen they are always welcome to.
"Many of the people who come in are people facing hard economic times and are basically selling or pawning their jewellery to simply make ends meet.
"I just feel like basically he is trying to use it more like a scapegoat. Even if he does it, it won't stop anything. Every business is governed by business laws. There are ways that you can keep a business in check, which the Bill outlines, so it isn't like the businesses are running without a Bill or an outdated Bill; this was just drafted by the last government."
Mr Brown added that the supply of gold is not as high as in the past. "Business is up and down. It isn't the type if business where you're going to make a whole lot of money. The price of gold has dropped drastically, so there isn't even much profit in the business; you might make more just pawning the jewellery for a short-term loan," he said.
Several observers yesterday questioned why Mr Nottage was so quick to single out the 'Cash for Gold' and copper industries when, unlike the web shop sector, their activities are covered by specific legislation and regulations.
They pointed out that the issue harked back to the Bahamas' age old problem: Enforcement of existing laws.
The Pawnbrokers and Second-Hand Dealers Act 2011 imposes upon a business owner or dealers the duty and responsibility to verify the identity of customers, maintain records and keep certain items in an unaltered state for specified periods.
The Bill also empowers a police officer, acting on reasonable suspicion, to enter a dealer's premises and request the production of all articles in possession of that dealer for inspection, and request the production of copies of records required to be kept by the dealer.
Mr Nottage said persons were stealing "hundreds of thousands of dollars" worth of copper just to for export from the Bahamas, and that he wanted a ban placed on the industry until the situation could be controlled.