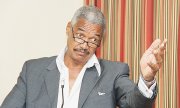 By RASHAD ROLLE
FORMER BEC minister Phenton Neymour never called a meeting with any of the management or executives of the company, yet is quick to criticise current leaders of the organisation, MP Leslie Miller charged.
During his contribution to the budget debate, Mr Miller, now BEC's executive chairman, said since he took charge BEC's board has successfully reduced the expenses of the organisation and is working towards increasing its profitability.
He said: "We have now been to BEC under this new administration for almost a year and there is this former minister, Mr Neymour, who is in the press every day criticising everything we try to do.
"First of all, here's a minister who has never once in five years had a meeting with any of the management or executive members but yet he says that everything we try to do makes no sense.
"How can you be a minister for BEC but never call a meeting to try and see what's going on to assist the Bahamian people?
After Mr Miller became executive chairman, he said, the board set out to revamp and improve certain programmes implemented by the previous administration.
As an example, Mr Miller cited changes the board made to the contract for "disconnectors" –the workers responsible for manually disconnecting the electricity of people with overdue balances.
"When we took office, BEC had 11 contract disconnectors in New Providence and the 11 persons were paid $740,595 over the course of one year," he said. "One fella got paid $97,000 without a high school diploma and this took place under Neymour, the same man who is criticising us.
"We now have 25 disconnectors in New Providence and from October 2012 to April 2013 they've been paid a total of $283,412 for the year for those months, representing a monthly amount of $12,000 for 25 people which means we have hired additional people and saved $18,000 a month from what was once paid."
Mr Miller also noted that while "overtime remains a problem for BEC," the organisation is "fighting through it and we have seen reductions."
He also praised the budget during his speech, saying: "It's a start in the right direction for a better Bahamas. Moody's in its assessment of the budget gave a positive review to the government of the Bahamas.
"You look at what's happening in Greece, in Turkey, there's upheaval all throughout parts of the world yet the Bahamas still finds itself in an enviable position."