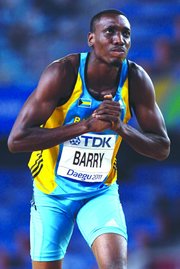 By BRENT STUBBS
Senior Sports Reporter
bstubbs@tribunemedia.net
One of the marquee matchups in the Bahamas Association of Athletic Associations Nationals this weekend will be minus one of the principal competitors after high jumper Trevor Barry withdrew from competition due to injury.
Barry, who celebrated his 30th birthday on June 14, will not be appearing in Grand Bahama to defend his title against arch-rival Donald Thomas and rising young stars Ryan Ingraham and Jamal Wilson in what is expected to be the biggest event to watch on the field at the Grand Bahama Sports Complex.
Between February and March, Barry suffered an injury, but he kept jumping through the pain. He came home to compete in the inaugural Chris Brown Bahamas Invitational where he and Thomas were tied at 2.20m or 7-feet, 21/2-inches. Ingraham and Wilson finished second and third respectively behind American champion Keith Moffatt, all at 2.28m (7-5 3/4).
At a meet in Shanghai on May 18, Barry posted his season best of 2.24m (7-4 1/4), but he admitted that the performance took a toll on him and so he decided to call off the remainder of his meets.
"It was hard because I really put a lot into my preparation during the offseason," said Barry, who is coached locally by Keith Parker. "I was really looking forward to competing this year at the World Championships. I was really disappointed when I found out that I wouldn't be able to compete."
The nationals will serve as the last trials for athletes wishing to make the Bahamas team that will compete at the World Championships in Moscow, Russia, August 10-18. Athletes will have to attain either the A or B standard to be eligible to compete.
So far, none of the high jumpers have attained the A standard of 2.31 (7-7). The B standard is 2.28m (7-5 3/4). A country can have up to three athletes competing if they all achieve the A standard. If they don't, only one athlete can compete with a B standard.
So far, Ingraham and Wilson are the only two to have accomplished the B standard this year.
Barry won the national title last year with a leap of 7-6, followed by Ingraham with 7-3 and Thomas with 7-0 1/2. "I would have really liked to be there, especially in Grand Bahama, to defend my title," Barry said. "But it's not possible, so I just wish the young guys a lot of success. They still have Donald to compete against so I know the competition will be very fierce."
As the national champion last year, Barry went on to compete at the 2012 Olympic Games in London, England, where he failed to make it to the final. Neither did Thomas, the other representative.
Barry's performance came a year after he clinched the bronze medal at the IAAF World Championships in Daegu, South Korea, with his personal best of 2.32m (7-7 1/4). Thomas ended up 11th with 2.20m (7-2 1/2).
This is the first time in 10 years that Barry will be missing the trip home from the United States for the nationals.
"I'm really disappointed that I can't represent the country this year," he said. "I'm really working on my therapy and trying to get back to full form. Hopefully, I can try and come back later in the year, but I will definitely be able to compete at the World Championships because I won't be at the trials."
Despite not being able to compete, Barry said his spirits are still high and he's counting on the jumpers securing the qualifying standards so that more than one can compete in Moscow this year.
"I'm predicting that it will take 2.28 (7-5 3/4) or 2.27 (7-5 1/4) to win," he said. "It will be interesting to see what happens because none of them have done the A standard yet."
Barry said he's just disappointed that he won't be in the mix.