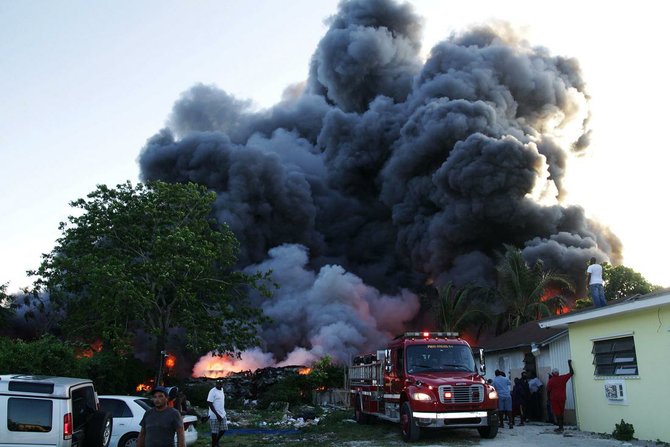 http://www.youtube.com/watch?v=b-prx0kGRKQ
By DANA SMITH
Tribune Staff Reporter
dsmith@tribunemedia.net
SOLDIER Road residents watched in horror this evening as an 'inferno' ripped through Strachan's Auto, sending clouds of black smoke billowing into the sky.
Homeowners took to their roofs and tried to extinguish parts of the fire with garden hoses as flames seemed to get closer to backyards.
Police, fire services and the National Emergency Management Agency have been working for more than five hours to bring the blaze under control.
Smoke clouds were seen for miles across New Providence, with dozens of people taking pictures on cameras and mobile phones.
According to police at the scene, five fire trucks battled the flames which were fed by hundreds of scrap cars in the auto shop's junk yard, and threatened several homes nearby.
The scrap yard was said by residents to have been there for more than a decade, housing up to 600 cars, and has caught fire before, some two or three years earlier.
Garden Hills MP and Speaker of the House Kendal Major was at the scene and dubbed the fire an 'inferno.'
As he looked on at the blaze, he said: "This is very, very serious."
He expressed concern for the residents of the surrounding area whose homes were in a potential danger zone.
"I'm very concerned because the winds are high," he said, explaining the winds could potentially spread the raging flames to the surrounding homes.
By 9pm, no casualties had been reported by the police.
Did you witness the blaze or take pictures? Email your story and photographs to shunt@tribunemedia.net.