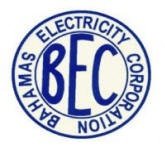 By NATARIO McKENZIE
Tribune Business Reporter
nmckenzie@tribunemedia.net
A BAHAMIAN renewable provider has presented the Government with an "energy mix" proposal to allow for 25 per cent of the Bahamas Electricity Corporation's (BEC) daytime generating capacity to be derived from solar power.
Philip Holdom, executive manager of Alternative Power Supply (APS), told Tribune Business that if the Government failed to enact the proper legislation to facilitate such projects, it would be the death of the renewable energy sector.
Encouraging the Government to 100 per cent privatise electricity generation in the Bahamas, Mr Holdom said APS's proposal involved BEC taking 30 mega watts (MW) of solar energy by 2015.
The proposal calls for 30MW, or 25 per cent, of BEC's generating capacity to be derived from solar energy. This is broken down into 10 MW from independent power producers (IPPs) in New Providence; 15 MW from medium to large businesses generating their own excess energy, and 5 MW from residential and small businesses.
"We gave the Government a proposal to create power for the daytime load up to 25 per cent of the capacity of BEC. The reason you can't do more is because of their generators; you can't take too much load off of them or they don't operate properly. You can do about 30 per cent of a generator's load," said Mr Holdom.
He added that net metering legislation, as called for in APS's proposal, must be enacted. The submission calls for all systems to be net metered via a 20-year customer net metering arrangement.
"We must have net metering legislation. It won't work without addressing the meters," Mr Holdom said. "There are two different types of meters on this island.
"They are both bi-directional, but they are not programmed to be bi-directional, so you cannot get credit for the excess energy you produce. It's important that they buy the electricity from the person that spends the money to install the solar system."
He added: "When you make solar energy you need to be compensated at the same price BEC is charging. BEC would say that they will only buy it back and at an offset cost, which is the cost of the fuel, and which is completely disingenuous because the fuel cost is paid by the customer. They want to buy it at the fuel cost and then they're charging you for the fuel cost."