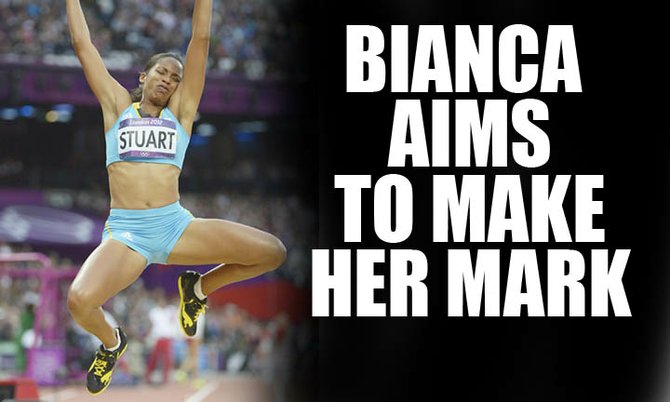 By BRENT STUBBS
Senior Sports Reporter
bstubbs@tribunemedia.net
She is the new face on the runway for the Bahamas in the women's long jump But, for Bianca Stuart, her goal is to make her mark on the global scene.
Stuart, who fell short of making the final in her debut at the 2012 London Olympics last August, booked her ticket to the IAAF World Championships in Moscow, Russia, by winning her first title at the IAAF World Challenge Meeting in Senegal on June 12. Her season best leap of 6.73 metres or 22-feet, 1-inch surpassed the B qualifying standard of 6.65m (21-10) and was just shy of the A mark of 6.75m (22-1 3/4) for Moscow, boosting her confidence for the biggest track and field meet on the planet this year.
"My goal this season is just to stay healthy and just try to improve with each meet," Stuart said. "The competition was really that stiff. You had one or two girls who may have jumped over 20-feet, but at that point and time, it wasn't really about the competition. It was just trying to improve my jumps. I couldn't really worry about the other girls because they were not jumping as I expected."
Lynique Prinsloo of the Republic of South Africa jumped 6.39m (20-11 3/4) for second.
Stuart, who set the national record of 6.81m (22-4 1/4) in Mayaguez, Puerto Rico, in 2011, came home over the weekend and headed to Grand Bahama where she successfully defended her title with a leap of 6.61m (21-8 1/4) in the Bahamas Association of Athletic Associations National Track and Field Championships at the Grand Bahama Sports Complex.
Tamara Myers, the triple jump champion, trailed with her best of 6.22m (22-5).
"The competition wasn't all that good, so I just tried to make the most out of it. I'm happy that I was at least about to jump over 6.60m (21-8) despite the conditions and the circumstances over there," Stuart said. "There were only two girls beside myself, so the turn around to jump was very, very short. It was very difficult for us to catch a break to even try to improve on our jumps. All and all, I guess I still did okay, despite the situation."
Stuart, 25, has also attained the qualifying standard of 6.15m (20-2 1/4) for the Senior Central American and Caribbean Championships in Michoacan, Mexico, July 5-8 where she will be going after her third consecutive title (2008 in Cali, Colombia and 2011 in Mayaguez, Puerto Rico). Then she will wait on the meets lined up for her by her agent and coach Henry Rolle.
"From the time I qualified, my confidence has been high. I am just trying to make the most of each competition," Stuart said.
As for her training camp in Auburn with Rolle, Stuart said it has certainly made the difference.
"I had a great off season, so I can't really complain about it," she said. "It was hard. It was really tough this season, but you have to train hard to get the results and stay healthy. That is what I've been trying to do. Hopefully it will continue to go that way for me."
Stuart, who won a silver medal in the 2002 CARIFTA Games at the Thomas A Robinson Track and Field Stadium, has also medalled at the CAC Jr, Pan American Jr, NACAC Under-23 and both the Sr CAC Championships and the CAC Games. But she is hoping that she will at least make her first IAAF World Championship final appearance this summer after missing out in her debut at the Olympics last summer.