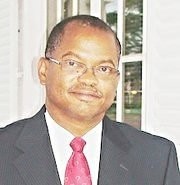 DR CONVILLE S Brown, another honouree from Mount Tabor Full Gospel Church's recent 'Celebrating Our Fathers,' event, returned to The Bahamas as the youngest, qualified and American Board-Certified Internist and Cardiologist in the Caribbean in July, 1990.
A graduate of The Government High School, 1975, he then studied at Acadia and Dalhousie Universities in Canada, followed by UWI Medical School with subsequent specialisation in Internal Medicine and Cardiology at the University of Medicine and Dentistry of New Jersey and Newark Beth Israel Medical Centre.
He founded and built The Bahamas Heart Centre, was certified by the American Board of Internal Medicine in Cardiovascular Disease in 1991, and was the first Bahamian to be inducted as a Fellow of The American College of Cardiology, FACC, and third from the Caribbean, 1994, and later a Fellow of The European Society of Cardiology, FESC, 2011.
He has been involved in developing many medical enterprises, including The Bahamas Interventional Cardiology Centre at Doctors Hospital, The Sunrise Medical Centre-Hospital Complex in Freeport, Grand Bahama, and The Medical Pavilion Bahamas which serves as Home to The Heart, Chest, Cancer, Imaging, Breast and Dialysis Centres.
Dr Brown was recognised for his contributions by The Medical Association of The Bahamas in 1999, honoured as A Legend in the Field of Medicine in The Bahamas in 2004 and "Jones Communications Network's Civil Society Person of The Year, 2009".
He is a long-serving member and trustee of the Sir Victor Sassoon Heart Foundation, former President of The Caribbean Cardiac Society and Council, and Consultant Cardiologist at both the Princess Margaret and Doctors Hospitals.
Dr Brown is married to Dr Corrine Sin Quee-Brown, a Paediatric Haematologist & Oncologist, and they have three children, Conville Stephan (IT), Corey Samuel (Law) and Chelsea Samantha (Medicine), the CSB5 Group.
Despite his busy work schedule, he finds time for his God and his beloved Church of Christ The King, Ridgeland Park West, which he proudly claims he helped to build as a child some 48 years ago, and where he was honoured to deliver the Father's Day Address in 2010.