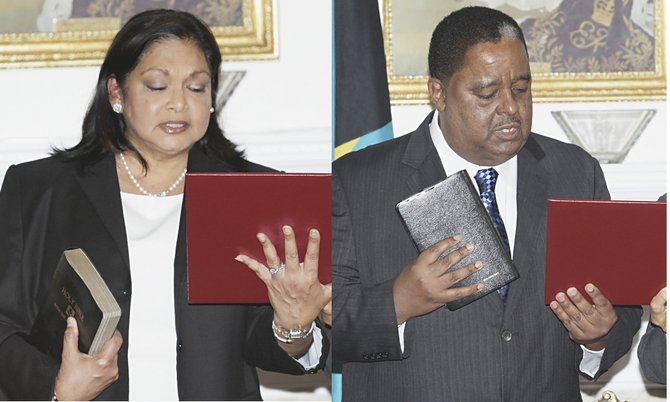 By SANCHESKA BROWN
Tribune Staff Reporter
sbrown@tribunemedia.net
CHIEF MAGISTRATE Roger Gomez and Deputy Chief Magistrate Carolita Bethel were sworn in as justices of the Supreme Court by Governor General Sir Arthur Foulkes yesterday.
Both took their judicial oath at Government House shortly after 12.30pm.
The appointments were line with Prime Minister Perry Christies commitment to appoint up to 20 Supreme Court judges to assist with the Swift Justice initiative and clear the criminal backlog.
Prime Minister Christie said the government hopes to put the courts in a position to conduct as many at 10 criminal trials at the same time.
Justice Gomez, who will be handling matters in the civil court, told reporters that being appointed a Supreme Court Justice is a life-long dream come true.
He said one of his main priorities is to assist in eradicating the huge backlog.
"I am really delighted to be here. I promise that I will do my best to serve my country and my people. Really it is a great honour.
"One of our main aims it to try and speed up the process a bit because we remain quite aware, before we were appointed, that this needs to be done. So that is one of our main priorities to try and speed up the amount of cases being tried," he said.
"I will be attached to the civil court but I hope to do some criminal cases too."
When asked whether or not he thought the appointment of 20 judges is realistic, Justice Gomez said it is achievable.
He said: "I know they are trying their best to have as many judges as they can to try and cut down on the backlog. Because you know we have so much crime in the country it's hard for the court to keep up with the amount of cases, so the more judges you have and the more courts available, the faster the process should be going on."
Justice Bethel, who will be assigned to the criminal court, said she hopes, with the help of God, to be a great judge and assist with the backlog.
However, she said swift justice is much more complex than the appointment of new judges.
"I am not sure whether it is realistic or not. There are so many things that need to be in place, like the availability of witnesses, jury member and also the lawyers themselves. They have to be present.
"We have a small criminal bar and I think that if everybody plays their part we can achieve it or come close to it," she said.
"Certainly we need more judges but remember you then have to have the prosecutors and then also a very large jury pool if it is a jury trial as well.
"I could see it working more if some of them were tried without a jury but there are a lot of things that have to take place.
"Twenty is a lot. A lot has to come into play, the witnesses have to be available – the same police officers are the witnesses that have to testify and you can't have one person at many courts at the same time."
Asked if she thinks justice would be swifter if jury trials were done away with, Justice Bethel said every person should have the right to choose.
"They can make that decision," she said. "Juries have always been a part of the Commonwealth. Yes it takes a bit of time for jurors to be found eligible. I think if we had a system of both it might speed up the process, but we have to see."
Magistrate Gullimina Archer is expected to be appointed the new Chief Magistrate.