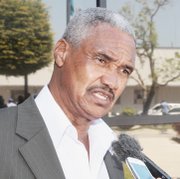 By DANA SMITH
Tribune Staff Reporter
dsmith@tribunemedia.net
BEC chairman Leslie Miller has lashed out at former chairman Phenton Neymour in the on-going argument over operations at the country's electricity corporation, dubbing him "clueless" and an "imbecile."
Earlier this week, Mr Neymour criticised BEC disconnector salaries as "below minimum wage." He also accused Mr Miller of using the protection of the House of Assembly to make unsubstantiated claims - including one that Mr Neymour never called a meeting with any of the management or executives of the company.
On Thursday Mr Miller dismissed Mr Neymour's allegations and also pointed to the "high" salaries paid under the leadership of the FNM.
"This guy is clueless. He lives in la-la-world by himself," Mr Miller said.
"This is the fellow who is accusing me of making mis-statements to the press and trying to use the House of Assembly to protect myself. Now who got to protect themselves from an imbecile like him who doesn't have the slightest idea of what the hell he's talking about.
"I look under the dictionary yesterday morning and I got out my thesaurus - the big one about 1,000 pages - and under 'jackass' they got: 'moron', 'idiot', 'imbecile', 'ninny', 'nitwit', 'simpleton', 'jerk' - and one I never heard of before, 'ding-dong' - whatever that one is. And I figure all of these probably describe the accusations made by this man."
In his statement, Mr Neymour said that according to the chairman, BEC pays 25 disconnectors $12,000 a month. He said this means that the salary of disconnectors is "an average of $480 per month or approximately $110 per week." He criticised it for being below minimum wage.
Mr Miller said it was not $480 per month, but rather $480 per week.
"I have been accused of lying or having blatant disrespect for the law with regard to the hiring and payment of contract disconnectors at BEC," Mr Miller said.
"Let me set the record straight, the 25 contract workers in New Providence presently employed with the corporation are paid between $480 to $680 each per week - with $80 of that going for gas - not per month as stated."
He said the figures quoted by Mr Neymor are "completely inaccurate, meant only to run from the idiotic decision to pay out so much money" to the 11 disconnectors that were employed under the FNM government and were paid salaries averaging $2,000 per week.
Mr Miller said tat one of those 11 was taking home almost $8,000 per month for a job "requiring minimal training and no specialised skill or advance education."
He said: "All you really need is a car, BEC trains you for a week- two weeks, we pay you $300 while you're being trained, your car is in good working order, the fellows give you the slip to say turn of 40, 50 or 60 people today and that's what you do.
"For that simple job, they took home $94,000 - one Bahamian. Now you tell me if that's right, tell me that make sense to any of ya'll... I never made that kind of money in my life. As a minister I didn't make that kind of money. A minister's salary is $66,000."
Realising the "absurdity in continuing with that trend," the chairman explained, BEC revamped the scheme of payment per disconnection and reconnection and disconnectors are paid a flat fee of $480 and $680 per week based on the number of disconnections and reconnections, they achieve. The corporation also hired an additional 14 disconnectors, bringing the number from 11 to 25, he said.
Reiterating an earlier statement that Mr Neymour had never held a meeting with any management or executive members, he said: "He never had a meeting at BEC with anyone in his life, in five years he sat here and never had a meeting."
He also, yesterday, refuted Mr Neymour's statement that he was using the protection of the House of Assembly to make unsubstantiated claims that he knows have no basis in fact.
Mr Neymour has disputed Mr Miller's claim over his lack of meetings.
He had told The Tribune: "One of my first activities as a Minister in the Ingraham Government was to meet with members of the Board of both BEC and the Water and Sewerage Corporation followed by executive managers."