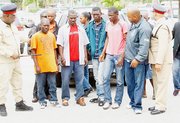 By LAMECH JOHNSON
Tribune Staff Reporter
FOUR Haitians and a Bahamian found themselves in Magistrate's Court yesterday charged in connection with the recent $2 million cocaine raid in Inagua, days after six Haitians were charged in connection with a $780,000 cocaine raid that occurred on the same island a week earlier.
The five men, four of them from La Tortue and Cape Haitien and the Bahamian from York Street, Nassau, were remanded to Her Majesty's Prison to await trial in September after they pleaded not guilty to conspiracy to possess dangerous drugs with intent to supply, conspiracy to import dangerous drugs, possession of dangerous drugs with intent to supply and importation of dangerous drugs.
Thony Pierre, 42, of Cape Haitien, Haiti and his countrymen, Weslet Leon, 26, Meralien Merlien, 45, Jean Peradestin, 46, appeared before Deputy Chief Magistrate Carolita Bethell with 62-year-old Bahamian Godfrey Kelly accused of committing the crimes between February 21 and February 25 while in the Bahamas.
On February 25, a team of DEU officers, with officials from Operation Bahamas Turks and Caicos, had conducted a search of "Poseidon", a blue and yellow 75ft Haitian vessel in Mathew Town, Inagua, when they found the drugs.
Some 128 kilos of suspected cocaine with a street value of $2.04 million was confiscated, and five men were arrested and taken into police custody.
The creole-speaking defendants, with the help of a Creole interpreter, were arraigned on the charges along with the Bahamian.
All pleaded not guilty and were told by the Deputy Chief Magistrate Carolita Bethell that the earliest trial date on the court's calendar was September 20.
She also told them that they would be denied bail because of the nature of the charges.
They were remanded to prison until completion of the trial.
Attorney Roberto Reckley appeared for Kelly while Brian Dorsett was retained by the remaining defendants.