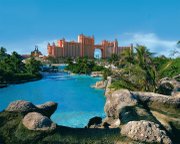 By NEIL HARTNELL
Tribune Business Editor
nhartnell@tribunemedia.net
Atlantis is eyeing an "exceptional" March with "across the board" occupancies in the low-mid 80 per cent ranges, its senior executive telling Tribune Business the resort had beaten early 2012 comparatives and was hitting this year's performance targets.
George Markantonis, president and managing director of Brookfield Hospitality, said the iconic Paradise Island property had achieved average occupancy rates that were five and three percentage points, respectively, ahead of January and February 2012 numbers.
Providing further evidence that the high-end Bahamian tourism market continues to enjoy a slow yet steady recovery, Mr Markantonis said Atlantis's 2013 performance targets – which had been set at a higher level than last year's – were being met.
Disclosing that the resort was set to begin testing mobile device gaming within the next 30-60 days, Mr Markantonis said the Atlantis casino had seen a revival of interest from Florida-based gamblers ahead of the introduction later this year of its new race and sports book facility.
While conceding that Atlantis's room rates were "not yet back to where we want", a characteristic shared with much of the Bahamian and global hotel industry, the resort chief said generating occupancy had been the first target because it helped to drive visitor spending.
And Mr Markantonis said Atlantis and the One & Only Ocean Club were "perfectly positioned to reap some rewards going forward", due to the continued annual investments in upgrading and keeping the resort properties fresh.
March's performance has been aided by an early Easter, which this year falls right at the end of this month. "We're sold out. That's the simple story. We don't have any [rooms] available over the Easter week," Mr Markantonis told Tribune Business.
Acknowledging that Easter's early arrival had created "a huge pressure point" when it came to the availability of room inventory, the Brookfield Hospitality head said that while there may be small 'gaps' of two or four rooms yet to be filled, no large blocks remained.
"I think all of our towers together, probably across the board, are in the low to mid-80 per cent occupancies for the month of March; possibly even higher," Mr Markantonis disclosed. "For us, that's exceptional."
March follows a steadily improving trend for Atlantis, and builds upon strong showings in January and February. "Our hotels ran in the mid-70 per cents for February, beating 2012 by three occupancy percentage points," Mr Markantonis told Tribune Business.
"It was in the low-mid 70s, and last year we ran 69 per cent. And our occupancies in January were about five percentage points higher than the previous year. We ran in the mid-60 per cents, and last year we ran 58 per cent, so again, great initial trends.
"We've got higher targets for 2013 than last year, and so far we're hitting them."
However, when asked by Tribune Business about whether Atlantis was also seeing a rebound in room rates, Mr Markantonis conceded: "We're not yet back to where we want to be.
"The first thing to do is impact the occupancy, because you get the advantage of revenue per available room (RevPAR), the other indicator of spending."
Reiterating the concerns that Brookfield and Atlantis operator, Kerzner International, harboured about April, given that the month did not contain the Easter holiday weekend that benefited previous years, Mr Markantonis said the counter-punch would come from a concert series headlined by Alicia Keys.
And May was set to benefit from the Pure Silk-Bahamas LPGA Classic golf tournament set for the One & Only Ocean Club, Mr Markantonis pointing to the "great exposure" the Bahamas as a whole would earn from its screening on the Golf Channel.
Meanwhile, Atlantis expects to open its new high-end casino bar by the end of June, with Olive's restaurant following a month later. Keeping up the momentum, the casino's race and sports book facility will open its doors in August, with the poker room rounding off the additions in September/October.