By BRENT STUBBS
Senior Sports Reporter
bstubbs@tribunemedia.net
For someone who doesn't like competing indoors, Shaunae Miller is having the time of her life for the University of Georgia Bulldogs.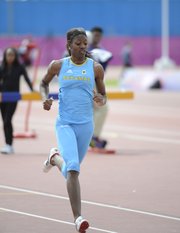 The 2012 St Augustine's College graduate was named the Southeastern Conference Women's Freshman Runner of the Year after her third place finish in the women's 400-metre dash in a school record time of 52.21 at the SEC Championships in Fayetteville, Arkansas, on February 24.
It marked the third time that the six-foot, one-inch quarter-miler broke the Lady Bulldogs' all-time mark in the event.
"I'm not a real fan of indoors. It's a lot harder to run, but I think I'm adjusting pretty well and I will be ready for Nationals this weekend," Miller said. "Hopefully I will get adjusted to the track a lot more in this meet."
Looking back at her performance in the SEC where she also ran a leg on Georgia's distance medley relay team that set a school record with a time of 11:25.25 to take fifth, Miller said although it wasn't her best, she was content with her accomplishment.
"I went out there and I gave it 110 per cent," she said. "I thank God for my performance."
Preparing to celebrate her 19th birthday on April 15, Miller is currently the top freshman and fifth overall on the NCAA performance list in the 400 going into the NCAA Division One National Track and Field Championships that will return to Fayetteville, Arkansas, this weekend.
"I just hope to go out there and do pretty well and represent my school again," she stated. "I know the competition is going to be a lot more stiff, but I'm ready for it. I'm just going to go out there and have some fun with it. Considering this is my first season indoors, I think I'm doing pretty good."
Miller, who also has the second fastest 200 time in school history (23.26), which ranks her as the top freshman in the country and 10th overall, said she's more eager to start competing in the outdoor season that is not expected to begin for her before she comes home to compete at the BTC Carifta Games March 29 to April 1 at the new Thomas A Robinson Track and Field Stadium.
"I just want to get through the Nationals this weekend," she said.
George Cleare, the Bahamian assistant coach at the University of Georgia, said based on Miller's performance, despite coming off a slight injury she experienced earlier in the season, he expected her to run as consistent as she did.
"With the talent that she is and the type of competitor that she is, I didn't expect anything else," he said. "But her performance so far is just something that I have been so proud of."
As she goes into the Nationals this weekend, Cleare said the main objective is for her to remain healthy.
"She won't be running too many events. She will probably just be focusing on one event, which is the 400," he said. "We just want her to develop at a rate that is conducive to her so that she can be effective in years to come."
Cleare noted that while Miller has produced some fast times, indoors is not necessarily about who is faster, but rather who executes the best race.
"Because of her height, a lot of coaches are going to exploit her by trying to box her out, so she's going to have to run a smart race," Cleare said. "The 400 is like the 800 where you are going to have to cut in and avoid getting boxed in where individuals will try to cut her stride and slow her down. So she's going to have to try and run a smart race."
Tynia Gaither, a Bahamian sophomore at UG, competed at the SEC Championships where she failed to qualify for the Nationals in both the 60 and 200 metres. But she competed in the Notre Dame's Alex Wilson Invitational over the weekend where ran a split of 53.9 on the 400 leg on the distance medley team that earned their berth in Arkansas this weekend.
The other Bahamian on the team, quarter-miler Rashan Brown from Grand Bahama, is still recuperating from an injury and won't start competing until the outdoor season in two weeks, according to Cleare.
"She suffered the injury at World Juniors (last year), so we're bringing her along very slowly," he said. "I'm looking to see her come together very well and I expect her and Shaunae to also have a much better outdoor season. We're kind of just really getting into training right now."
If the indoor season was any indication of what Miller is capable of doing, Cleare said he anticipates that she will produce some more record-breaking feats during the outdoor season.
NOTES: Also expected to compete at the Nationals this weekend is Ivanique Kemp, a senior hurdler from the University of Arkansas Razorbacks. Kemp, who was named to the All-SEC Second Team, was fifth in the 60-metre hurdles in 8.35 metres and she ran the second leg on the Razorbacks' distance medley relay team that qualified for the Nationals.
Tamara Myers, a sophomore at the University of Arkansas, was fifth in the triple jump with a leap of 42-feet, 10 1/4-inches, but it's not known if she has qualified as the listings have not yet been posted.