By SANCHESKA BROWN
Tribune Staff Reporter
sbrown@tribunemedia.net
NATIONAL Security Minister Dr Bernard Nottage said there is no excuse for anyone dying in police custody unless they die of natural causes.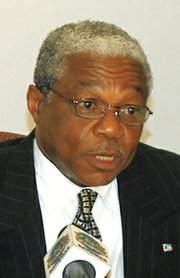 Commenting after it was revealed that 35-year-old Jamie Smith died in police custody of asphyxia, Dr Nottage said the investigation will move forward and his ministry will "let the chips fall as they may".
Smith died of a lack of oxygen, hours after he was arrested by police on February 8. Police say he was arrested on suspicion of armed robbery and taken to the Central Detective Unit (CDU). Police have never revealed the circumstances surrounding his death.
The matter has been sent to the Coroner's Court where an inquest will open on March 26.
Dr Nottage said while he was "unaware" of the findings of the pathologist, the matter is one that has to go to Coroner's Court before any conclusions can be made.
"The matter is now being investigated and the chips will fall as they may. All deaths which are unexplained are subject to the coroner's investigation, that is something we normally expect to take place. I cannot comment on what will happen other than to say if the results are not considered satisfactory then we will have to decide whether any further investigation is required," he said.
"It is a simple matter, no one has the right to take any action that results in the loss of life and wherever there is loss of life people will be  investigated and wherever the investigation takes us, we will have to go."
Meanwhile, the family of Smith is preparing for his burial. Funeral services will be held on Sunday at New Hope Missionary Baptist Church.
Smith died in CDU 24 hours before Aaron Rolle, 21, died while in police custody at the Southern Police Station.
According to Dr Nottage, police officers from both stations have been placed on leave until the Coroner completes investigations.
However, he said: "This is not to suggest any culpability or otherwise. It is simply to ensure that procedures are followed which will allow due process and natural justice to everyone involved – the police and the victims." 
Human rights watchdog Amnesty International was critical after the deaths saying it "highlights the urgent need for greater accountability for police abuses."