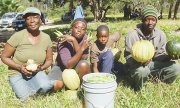 THE Bahamas Agricultural and Industrial Corporation said agri-business entrepreneurs should be applauded for their ability to compete in an open market, showcasing the resilience of an agricultural industry which is vital to the country.
BAIC said consumers are often unaware of the origin of many goods as they peruse food-stores, "selecting flawless, locally grown fruits and vegetables such as tomatoes, pineapple, sweet potato, onions, thyme, arugula and also chicken and eggs".
Penetration into this open market is not an easy feat for small island business entrepreneurs.
Success comes from growing to demand, having a great quality product at a competitive price, and being consistent in supply, BAIC said.
"With support from companies that buy local produce and the Bahamas Agricultural and Industrial Corporation, agri-business entrepreneurs can better channel their efforts towards market access.
"BAIC's Agriculture Division offers free assistance to agri-business persons in the form of consultancy, business plan development, and food processing and marketing," the corporation said.
Arnold Dorsett, assistant general manager of the Agriculture Division, said he focuses his efforts on the theme "Grow what we can, buy what we must – which is ultimately achieved through the development of an import substitution policy".
Mr Dorsett said: "The agriculture initiatives of BAIC, including the introduction of modern farming technologies, are paramount to elevating our agriculture industry."
For the past decade, BAIC said, its marketing efforts have strengthened ties between purchasers and farmers.
It said agricultural marketing officer Amanda Wells is strategically working to build relations and facilitating connections from farmer to buyer.
According to Caleb Evans, a major farmer in North Andros: "My market is secured and I know that BAIC is always willing to strengthen my marketing efforts."
Sammy Noel of North Andros said: "Mr Treco (Continental Food Ltd) and Mr Pinder (Rocky Farms Nursery) are good people to work with and I do not have to worry where my next crop will be sold because BAIC was able to foster and create these linkages."
Jimmy Higgs of Organic Oasis said: "Upon the sale of agricultural produce to Atlantis via Bahamas Food Services, I am grateful for their support, and also grateful for the support of Amanda Wells at BAIC who saw the sales of Baby Arugula to Atlantis as being fitting and also made all the arrangements."
Chavara Roker of Chickcharney Farms said: "BAIC was instrumental in securing a buyer last season for my crop of goat peppers. The purchaser (Super Value) was very happy about the quality of peppers and of course I was proud as the producer. BAIC has truly been the vehicle for me to get my produce to market. "
After learning about BAIC's marketing services, Patrice Dorsett said she "would like to take advantage of the benefits that come with selling sweet potatoes directly to the private sector."
Both Continental Foods and Super Value have agreed to purchase her product, BAIC said.
"You can really survive and make a lot of money in farming, but it is extremely important to have the capital," she said.
Ms Wells added: "There are large untapped markets especially in the hotel and restaurant sectors. This past year we've liaised with managers and chefs who are at the edge of their seats, ready to buy local produce that lends excitement to culinary experiences."
President of Baha Mar, Tom Dunlap, said: "BahaMar loves the idea of local buy on as many local fresh products as possible. It adds to the ability to offer a fresh, healthy cuisine in addition to the relationship it builds with small farm growers though out the Bahamian region".
With so much untapped potential in the marketplace, BAIC and the Ministry of Agriculture, in collaboration with COB, is exploring the development of a technical and research centre to train future agri-business entrepreneurs.
Arnold Forbes, BAIC chairman, said: "Food security starts with a small step. Establishment of the North Andros Agriculture Research Centre is the first step on the road to the Bahamas becoming self-sufficient. I am excited to be a part of this historic process, as it will revolutionise the agriculture industry in the country. "
Upon learning of the agriculture school, Lavanda Oliver, a young resident of North Andros, said:"If the school comes to Andros, I would definitely get into agriculture."
Mizpah Butler, owner of Chickcharney farms, added that farming keeps her children and grandchildren off of the streets and out of trouble.