By SANCHESKA BROWN
Tribune Staff Reporter
sbrown@tribunemedia.net
MINISTER of Agriculture, Marine Resources and Local Government V Alfred Gray yesterday denied claims that he authorised Local Government in Freeport to pay for the island administrator to go to a conference in Africa.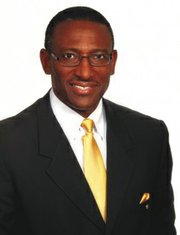 His comments came after East Grand Bahama MP Peter Turnquest told the House on Monday that he had written "proof" that Mr Gray told local government to fund the trip that Mr Turnquest called a "vacation" at a time when the nation was supposed to be tightening its spending habits.
He was referring to the Commonwealth Local Government Conference in Kampala, Uganda, Africa, scheduled for May 14 to 17.
Mr Turnquest told he House that "after the Freeport City Council agreed that the Chief Counsellor and the deputy would go, the minister authorised them to include the administrator. This is a blatant waste of the tax payer's money. That is $6,000 each minimum or $18,000 in total. This cannot be right when we are asking corporations and the College of the Bahamas to cut cost. They went on a vacation at the public expense, on much needed infrastructure funds."
Mr Gray not only denied the claim but yesterday tabled a letter from the Administrator and the Chief Councillor denying that Mr Gray had authorised the trip. This letter also said that the minutes from a meeting that stated that Mr Gray did give that order, were false.
"I hope this brings an end to this issue, Mr Speaker. When I told the member for East End that I never wrote such a letter he said I did, like it was a factual statement. I just want to go on record to warn my colleagues, do not jump to make assertions unless you can establish the facts, it's dangerous. If I were not of good memory it would have been perhaps easy for me to fall prey to such slander or  whatever it is he tried to do to me," he said
"I don't know if it is personal I would not go that far, but, Mr Speaker, I have a responsibility to the  people and if I had done that I would say I did it because asking the council to pay for the administrator's way is no crime, it does not go outside the purview of my authority, but I didn't do it and I knew I didn't do it and that's why I challenged him . I read the letter for you to see I was right. There is in my view, an attempt on the part of the side opposite to do two things in this debate, to call everyone a crook, a thief and a liar, not smart or whatever they can find to smear us because they cannot say the work that we have done or the work that we are doing is not better than what they did."
Mr Turnquest accepted the response from Mr Gray, but said if he did not send the letter "there is a much bigger problem" he needs to look into. Mr Gray had challenged Mr Tunquest to produce the letter to which he had referred on Monday.
Mr Turnquest then produced the dated minutes of a Local Government Council meeting held in Freeport and signed by the Administrator Alexander Williams and the Chief Councillor Kevin Ferguson. In those minutes it was stated that Mr Gray had authorised that Administrator Williams be included in the trip to Uganda. Not only were the minutes signed and dated by Messrs Williams and Ferguson, but the document bore an official filing number.
Mr Turnquest tabled the following letter dated January 2, 2013 and addressed to Mr Kevin Ferguson, Chief Councillor. It read:
Dear Mr Fergsuon,
Re: CLGF conference 2013 – Uganda, West Africa
The Honourable Minister for Agriculture, Marine Resources and Local Government would wish that the council fund the travel of Administrator Alexander E. Williams to Uganda to attend CLGF conference 2013. Your cooperation is appreciated.
Sincerely,
Alexander E Williams, Administrator.
This letter was written on Department of Local Government letterhead.