By LAMECH JOHNSON
Tribune Staff Reporter
ljohnson@tribunemedia.net
A MAN awaiting retrial in the Supreme Court in connection with the kidnapping and sexual assault of a 12-year-old boy was taken to court by accident yesterday.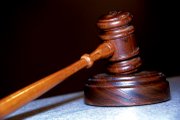 Kohfe Goodman, who is also scheduled to stand trial in a month's time in connection with the murder of Marco Archer, was brought before Senior Justice Jon Isaacs for a case dated to be heard again on March 7, 2014.
However, in the previous appearance before the court, the clerk noted the date for trial as March 7, 2013 instead.
Senior Justice Isaacs apologised for the error. He said his retrial on charges of kidnapping and unlawful sexual intercourse with a minor is still set for March 7, 2014.
The 38-year-old man of Yorkshire Drive is alleged to have abducted a 12-year-old boy from Augusta Street and had sex with him on August 17, 2011.
Goodman has denied the charges.
Last December, the trial in the case began with the victim giving his testimony to the court.
However, a day later, a mistrial was declared on discovery that one of the nine jurors was related to the complainant and in the interest of fairness, the presiding judge discharged the jury and ordered a retrial, which was set for March 7, 2014.
Goodman, who has since applied for and been denied bail pending retrial, is to appear in court again on April 8 before Justice Bernard Turner.
It is before this judge that he will stand trial in connection with the September 2011 murder of Marco Archer.
Goodman is represented by lawyer Geoffrey Farquharson.