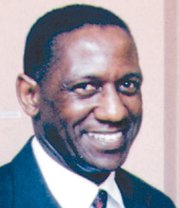 By NEIL HARTNELL
Tribune Business Editor
nhartnell@tribunemedia.net
Two different accounting firms had identified serious "compliance breaches" by an insolvent Bahamian broker/dealer up to two years before it collapsed, one finding a $5 million "shortfall" was caused from the unauthorised use of client funds.
New information on the collapse of Owen Bethel's Montaque Capital Partners, including documents from Deloitte & Touche (Bahamas) and James Gomez & Company, plus a forensic accounting report by auditors KRyS Global, reveal that the "deficiencies" identified by the former two in 2009 still "existed" when the broker/dealer was placed into liquidation.
The documents, filed with the Supreme Court this week, allege a variety of regulatory breaches:
A Deloitte & Touche 'Work in Progress Report' on Montaque Capital Partners, dated April 28, 2009, said a $5 million shortfall "appears to be the result" of the broker/dealer using cash belonging to clients to fund the activities of other clients "and Montaque Group needs".
The same report alleged that sums transferred from client bank accounts to Montaque Capital Partners and its affiliate, Montaque Capital Partners, in the year to end-April 2009 "exceeded amounts" due to the broker/dealer in fee income.
The Deloitte & Touche report also expressed concern that Montaque Capital Partners may have invested in foreign companies without obtaining Central Bank of the Bahamas approval first.
Other concerns identified by Deloitte were that clients, whose companies had been struck-off the Companies Registry for non-payment of annual fees, were still conducting business.
In addition, some clients had expired passports in their Know Your Customer (KYC) files, and updates were progressing slowly.
As a result, Deloitte & Touche (Bahamas) resolved to "discontinue providing chief financial officer services [to Montaque], because it appears that the company is using client funds to settle company obligations".
And, in an August 5, 2011, letter written to Montaque Capital Partners' Board of Directors, Mr Gomez, commenting on his 2009 audit findings, noted the "significant amount of inter-company transactions" between the broker/dealer, Montaque Corporate Partners and other affiliates.
The letter, written three months before Montaque Capital Partners was placed into liquidation, said of the implications: "As a result of these transactions and the lack of timely reconciliation of client cash balances and other assets, it begs the question as to whether Montaque Capital Partners has used client funds to fund the company's operating activities and to extinguish the debts of other related party entities.
The key question, which these documents and the liquidators' forensic report does not answer, is whether any further action to deal with these "deficiencies" in Montaque Capital Partners' operations was taken.
Most importantly, it is unclear whether any of this was brought to the attention of the Securities Commission of the Bahamas, the broker/dealer's primary regulator. It is unclear whether firm regulatory action, taken at a much earlier date, could have saved Montaque Capital Partners from collapse into insolvency.
In their forensic accounting report, completed on June 29, 2012, but only released publicly in court documents this week, liquidators Kenneth Krys and Ed Rahming said of the two accounting firms' reports: 
"The deficiencies and the concerns raised by both the auditor and the consultant supports the lack of financial information, incomplete financial information, the poor systems of control, the lack of an up-to-date accounting system, and the difficulty in reconciling accounting records."
And, following their examination, they concluded: "We fund that the breaches in compliance identified by the auditor and the consultant still existed upon our appointment."
The Deloitte & Touche report said the "Montaque Group", during its 2009 financial year, used client funds for transactions totalling $1.1 million in Bahamian dollars, and $1.2 million in US dollars.
It added: "S1.1 million of the $5 million shortfall is related to broker cash account activities. It appears that funds have been taken from client accounts held at brokers and used for those clients without funds."
As for the fee income, for its 2009 financial year, Deloitte & Touche said Montaque Corporate Partners was due $140,000, yet transferred $346,000 to itself from the client bank account.
For the same period, Montaque Capital Partners was owed $13,000 in fee income, yet transferred out $490,000 from the client bank account to itself.