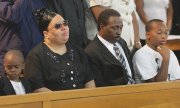 FAMILY and friends mourned the death of Lakeisha Rolle yesterday as the 18-year-old victim of a horrific Eleuthera car crash was laid to rest.
Lakeisha died last week after spending several days in intensive care in New Providence.
She was among three of the six victims who had to be airlifted to the capital with serious injuries.
The February 20 accident also claimed the life of 15-month-old Keiron Dorcent, who was pronounced dead on the scene.
Eyewitnesses said a 2001 Nissan Sentra was travelling north on Queen's Highway at around 10.30am when it lost control.
Police on the island and officials from New Providence have launched an intensive investigation into the crash.