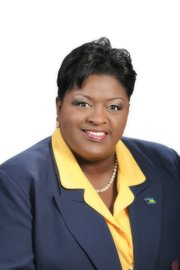 Message from Melanie Griffin, Minister of Social Services and Community Development, on International Women's Day.
MY fellow Bahamians, today The Bahamas joins with other member countries of the United Nations in celebrating International Women's Day, which is held annually on March 8 to celebrate women's achievements throughout history and across nations. It is also known as the United Nations (UN) Day for Women's Rights and International Peace. The official United Nations theme for the celebration this year is "A promise is a promise. Time for action to end violence against women."
The observance of International Women's Day coincides with the Fifty-Seventh Session of the United National Commission on the Status on Women, which began on March 4, 2013. It was my privilege to lead the Bahamian delegation to the first week of this session, which also focused on violence and indeed the priority theme for the session is "elimination and prevention of all forms of violence against women and girls."
I had the opportunity to share some of the actions we have taken and continue to take to address this global phenomenon which threatens women's survival, economic empowerment and social development.
These include the education of our population in particular young women and girls on healthy relationships and that no form of violence perpetrated against them is acceptable and the importance of involving men and boys in the formulation and implementation of policies geared towards the elimination and prevention of violence against women and girls. In this regard, the Bureau of Women's Affairs of my ministry is partnering with the local chapter of the Caribbean Male Action Network (CariMAN) to create a network of men who will become advocates for change in their local communities for the prevention of violence against women.
As a part of our local observance of International Women's Day, we will in New Providence convene a forum on gender-based violence by bringing together women, men and young people to dialogue and make recommendations in furtherance of ending gender-based violence in our country. In Grand Bahama, we are supporting the Join Me On The Bridge event, which is being organised by the community of non-governmental organisations.
I implore all Bahamians to support these activities and the work of my ministry as we week to tackle this most vexing issue. I also implore you to let your voices be heard as we join forces to end gender-based violence.