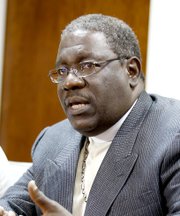 THE controversial spate of deaths in police custody has brought the Royal Bahamas Police Force to "the crossroads" according to Bishop Simeon Hall.
The outspoken Pastor Emeritus of New Covenant Baptist Church said that while he supports the Commissioner of Police and all the officers who serve under him, the recent deaths has besmirched their reputation and raised concerns about police brutality.
"The Bahamian public must be reassured that those responsible for carrying out the law abide by the law and face the harshest punishment when they break the law," Bishop Hall said.
He said that most right thinking Bahamians are not against the police the police, but they are against the "slightest hint" of police brutality.
"I also wish to question our system of referring matters of this nature to the Coroner's Court. It would seem more just if in these kinds of cases, a coroner were a medical doctor or pathologist, rather than a magistrate, as is done in the United States," Bishop Hall said.
He added: "The police needs the support of the public but they will not receive it from a distant, suspicious community angry by the obvious acts of disregard for the law by the minority of persons on the police force."
On Wednesday, Prime Minister Perry Christie promised to personally investigate the incidents after the families of the victims protested in Rawson Square, demanding justice for their loved ones.
The families have also called for the resignation of the Minister of National Security, Dr Bernard Nottage after he walked past them on his way to the House of Assembly and "ignored" their cries for help.