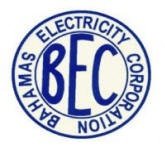 By NATARIO McKENZIE
Tribune Business Reporter
nmckenzie@tribunemedia.net
THE Bahamas Electricity Corporation (BEC) cut its staff overtime payments by almost 54 per per cent in February, its executive chairman charging that some workers at the Corporation had become accustomed to an extravagant lifestyle as a result of overtime pay.
Leslie Miller said BEC had implemented measures to cut its average $1 million per month overtime bill, and saw a 53.8 per cent reduction last month.
"We have cut it down after we put some parameters in place. The year was averaging $1 million a month," he said.
"Last month we were down to $462,000. The aim is to get to $300,000 and and really cut that down."
Mr Miller said there were some workers who had taken home up to $85,000 a year in overtime.
"If we don't save BEC for ourselves there will be no BEC. It is in a situation that it has never been in before," he added.
"You have some who believe that they own the Corporation. They have become accustomed to a lifestyle based on overtime. They have become accustomed to the abuse and misuse of our money, it's madness."
Stephano Greene, the Bahamas Electrical Workers Union (BEWU) president, told Tribune Business: "The Corporation, along with the unions, is trying to make recommendations to assist in trying to reduce operational costs at BEC.
"The union is assisting, and we have been in meetings with the Corporation. We have given them recommendations and suggestions from our side. Middle management has done the same thing.
"One of the things the Corporation has done is try its best to streamline the issuing of overtime and that has been done. The union is working with the Corporation on that."
Mr Greene added: "Management is only authorising  what they consider to be emergency overtime. They have always done that, but they're starting to streamline it as best as possible. The contract we have speaks about rostering already, and the terms and conditions surrounding rostering and flexitime."