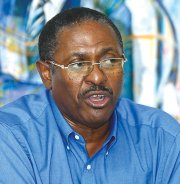 By NEIL HARTNELL
Tribune Business Editor
nhartnell@tribunemedia.net
An all-Bahamian investor group led by a former Water & Sewerage Corporation chairman has approached the Government about taking over one of the New Providence-based reverse osmosis plants currently operated by BISX-listed Consolidated Water, Tribune Business can reveal.
The group, headed by Don Demeritte, who chaired the Corporation between 2002-2007 when the first Christie administration was in office, is looking to exploit a potential opportunity created by the fact that Consolidated Water's 15-year lease of the Windsor reverse osmosis plant ended on March 1.
The Windsor plant sits on land owned by the Water & Sewerage Corporation, and Consolidated Water is looking to extend its 15-year water supply agreement with the sate-owned entity for a further five years.
Mr Demeritte declined to comment when contacted by Tribune Business yesterday, but both his involvement - and that of the Bahamian investor group - was confirmed by Water & Sewerage Corporation chairman, Bradley Roberts.
"That is correct, sir, I can confirm that. We've already received one expression of interest," Mr Roberts replied. when asked about Bahamian investor interest in replacing the agreement Consolidated Water had with the Water & Sewerage Corporation.
And Mr Roberts used the same words when asked to confirm Mr Demeritte's involvement.
As to the question of whether the Corporation was likely to extend the agreement with Consolidated Water for a further five years, Mr Roberts told Tribune Business: "The position is this.
"The contract with Consolidated Water is coming to an end. Therefore, it is the Corporation's position to decide whether to renew or give it to someone else."
Tribune Business understands that Mr Demeritte and his group, if they won the Windsor supply contract, would initially employ technical support from the US, while training Bahamians up to take over long-term.
A takeover by Bahamians at Windsor would have certain appealing attractions for the Government, which appears to be on an aggressive 'Bahamianisation' drive.
It would also feed into the sometimes rocky relationship that Consolidated Water has enjoyed with both Christie administrations, the most recent manifestation of this being the Water & Sewerage Corporation's decision late last year to declare its agreement with New Providence Development Company (NPDevCo) "null and void". The current administration has also been suspicious of what it sees as a potential Consolidated Water 'monopoly' on New Providence's water supply.
The Windsor plant supplies one-third of the water that Consolidated Water is contractually required to supply the Water & Sewerage Corporation every week.
The company's filings with the US Securities & Exchange Commission (SEC) said: "We provide bulk water to the Water and Sewerage Corporation of The Bahamas (WSC), which distributes the water through its own pipeline system to residential, commercial and tourist properties on the island of New Providence.
"We are required to provide the WSC with at least 16.8 million US gallons per week of potable water from our Windsor plant, and the WSC has contracted to purchase at least that amount from us on a take-or-pay basis. This water supply agreement expires on March 1, 2013."
According to Consolidated Water, the Water & Sewerage Corporation has three options:
It can extend the agreement for another five years at a rate to be negotiated.

It can exercise a right of first refusal to purchase any materials, equipment and facilities that Consolidated Water "intends to remove from the site, and negotiate a purchase price".

Or it can require Consolidated Water "to remove all materials, equipment and facilities from the site".
Meanwhile, Mr Roberts yesterday said that from the Water & Sewerage Corporation's perspective, there had been no change to the situation surrounding the Consolidated Water/NPDevCo water supply joint venture.
"There has been no change from that story," he told Tribune Business. "I think that they [the two companies] understand that there will be no change, and they respect that."
The Water & Sewerage Corporation last year ruled that the 25-year franchise agreement underpinning the deal was "null and void". It declared in an October 23, 2012, letter to NPDevCo president, Alistair Henderson, that the May franchise agreement had been "voided".
The BISX-listed reverse osmosis plant operator and its partner in a 50/50 joint venture worth $14 million announced their tie-up in May 2012 after securing what they believed was a 25-year deal making them western New Providence's "exclusive" water supplier.
In response, Consolidated Water said: "The company strongly believes that the franchise agreement remains in full force and effect, and is currently evaluating with NPDevCo a response to the October 23 letter."