AS the lead sponsor of the recent R Kelly 'Celebration of Love' concert at Arawak Cay, BTC was only too happy to host the singer to a visit to the BTC store at the South West Plaza just hours before he went on stage to a full house.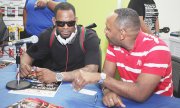 Eager fans packed the BTC flagship store, overflowing and spreading out into the car park and surrounding areas for the once in a life-time chance to see the superstar up close and personal.
The star was kind and courteous, accommodating as many requests for pictures as he could, including several recent BTC contest winners.
BTC senior manager for public relations Jerome Sawyer said helping facilitate the R Kelly concert, a first for the superstar in the Bahamas, was another community entertainment initiative that is a part of BTC's 40th anniversary gift to the country.
"R Kelly is a top-notch, world-class performer as he showed on the night and BTC was thrilled to be able to help bring him here. All this year we will be bringing entertainment to the community and developing civic programmes to benefit the community.
Mr Sawyer, host of TV Show, 'Eye on BTC' taped an exclusive interview with the star for the weekly programme.
'Eye on BTC' showcases the many community and nation-building projects and resources sponsored or created by BTC.