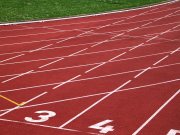 TRACK
CARIFTA TRIALS
A NUMBER of athletes have registered to participate in the Bahamas Association of Athletic Associations' final Carifta trials - set to begin 5pm today and continue 6pm Saturday - at the new Thomas A Robinson Track and Field Stadium.
So far, more than 30 athletes have attained the qualifying standards, but they will still have to compete in the trials unless they have been exempted by the BAAA. Following the trials, the BAAA is expected to release the names of the team on Sunday.
The BTC Carifta Games are scheduled for the new TAR Stadium over the Easter holiday weekend, March 29 to April 1. More than 20 countries have already registered to compete. The Bahamas were runners-up to perennial champions Jamaica at last year's games held in Jamaica.
TENNIS
RBC JUNIOR
CHAMPIONSHIPS
THE Bahamas Lawn Tennis Association has announced that the 2013 RBC Clay Court Junior Championship is scheduled to be held at the Gym Tennis Club in Winton Meadows. The deadline for entry is 5pm on Wednesday, March 27. All forms are to be emailed to bltasecretary@gmail.com or dropped of at the National Tennis Centre on or before the deadline.
Players will be eligible to play in two events, one singles and one doubles.
The categories include under-8, under-10, under-12, under-14, under-16 and under-16 in both the boys and girls singles. There will also be the boys and girls 14s and 18s doubles. There will be a consolation draw in each age group.
BASKETBALL
BSC ACTION
THE Baptist Sports Council is slated to begin its 2013 season at the Baillou Hills Sporting Complex with the following games on on Saturday:
Court One
10am - Latter-Day vs Mt Nebo (15)
11am - Macedonia vs Southland (15)
Noon - Latter-Day vs Macedonia 2
1pm - St John's vs Southland (19)
2pm - Macedonia vs Latter-Day (M)
3pm - Golden Gates 1 vs Faith United (M)
Court Two
10am - New Covenant vs Faith United (15)
11am - Cousin McPhee vs St John's (15)
Noon - Macedonia 1 vs Mt Nebo (19)
1pm - Golden Gates vs Latter-Day 2(19)
2pm - Evangelistic Centre vs St Mark's (M)
3pm - Golden Gates 2 vs BIBA (M)