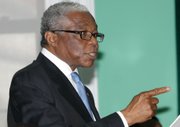 By SANCHESKA BROWN
Tribune Staff Reporter
sbrown@tribunemedia.net
CRIME has dropped by 34 per cent in areas where Urban Renewal 2.0 has been re-introduced, according to Minister of National Security Dr Bernard Nottage.
While making his contribution to the Mid Year Budget debate in the House of Assembly yesterday, Dr Nottage said despite all the criticisms of Urban Renewal by the opposition, it has shown significant results since it was relaunched in June.
"Crime has been reduced in these areas by 34 per cent. In New Providence, where there are eight Urban Renewal Offices in Bain and Grants Town, Centerville, Englerston, Fort Charlotte, Fox Hill, Kemp Road, Nassau Village and Pinewood Gardens – there have all been reductions.
Between June 4 and December 21, 2011, there were 47 murders, between the same dates last year there were 25 murders – a reduction of 47 per cent.
With rape, it was 33 in 2011 and 29 in 2012, a reduction of 12 per cent. Attempted rape dropped by 44 per cent, unlawful sexual intercourse by 41 per cent, armed robbery by 13 per cent and a robbery by 37 per cent, he said.
"House breaking reduced by 66 per cent, attempted house breaking by 28 per cent, stealing 38 per cent, attempted stealing 23 per cent, stealing vehicles three per cent and stealing from a vehicle 32 per cent.
"You see the results. Although other crime prevention methods are essential, Urban Renewal is arguably one of the most ambitious crime fighting tools in recent time," he said.
"With this in mind Urban Renewal 2.0 will refocus its efforts to reduce crime and the fear of crime in the community and target and identify the main causes of crime and improve the quality of life in communities."
Dr Nottage also revealed that overall crime in the Bahamas is down by 14 per cent, from January 1 to February 26, and murder is also down by 34 per cent.
However, he said, while there is good work being done, there are still far to many crimes being committed by young men – the majority of whom are repeat offenders.
• National Security Minister Bernard Nottage said admissions at Her Majesty's Prison Fox Hill increased by 16 per cent last year – the greatest increase since 2005.
Addressing the House of Assembly yesterday, Dr Nottage also gave an update on the two men who died in policy custody, last month.
Jamie Jamico Smith, 33, died in custody at CDU for questioning in connection with a number of criminal matters died. Less than 24 hours later, Aaron Rolle, who was 21, died in a cell at the Southern Police Station.
"I once again want to say without equivocation that those matters are being, will be thoroughly investigated," Dr Nottage said.
"The results will be made known and action will be taken the independent results which are received as a result of those investigations."