By LAMECH JOHNSON
Tribune Staff Reporter
ljohnson@tribunemedia.net
PRINCE Hepburn, a contractor accused of killing his sweetheart, a well known charity worker, declined to answer questions when he was interviewed by police about her murder.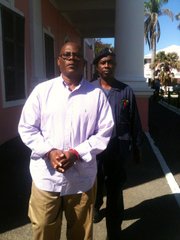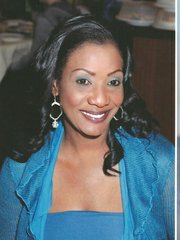 Inspector Mark Barrett told a jury yesterday that he sat in on Hepburn being interviewed by one of his colleagues when Hepburn, in the presence of his lawyer Krysta Mason-Smith, declined to answer questions or sign the record of the interview on April 13, 2011.
In cross-examination, lead defending attorney, Murrio Ducille asked the officer if it was his client's right to refuse to answer questions.
"Yes, sir," the officer replied.
It is claimed that on April 6 or 7, 2011, Hepburn caused the death of Nellie Mae Brown, the 42-year-old former president of the Bahamas Heart Association.
Hepburn and Brown-Cox were involved in an extramarital affair, though both had tried to divorce their spouses to be together.
Brown-Cox was found dead in the kitchen of an apartment on Bougainvillea Blvd, South Beach, with multiple stab wounds.
Hepburn, her partner at the time, was charged in connection with her death six days later when he was arraigned in the Magistrate's Court.
Since his arraignment in the Supreme Court, Hepburn has denied the murder charge.
Evidence so far in the trial reveals that Hepburn admitted killing his lover.
Supt Theophilus Cunningham said that on April 7, 2011, the contractor made the confession as he came out of the apartment in which Nellie Mae Brown-Cox was found dead.
"I spent over $1million on this woman. I left my wife for her and she gone scheme on me? I couldn't live with that. I had to kill her," the Superintendent said. He said that these were Hepburn's exact words to him when he instructed him to step outside of the complex.
However, Mr Ducille suggested to the officer that those words were never uttered by his client.
Anya James, who testified that she knew Hepburn and Brown-Cox from their interactions and travelling together, said she had called Hepburn's phone on the morning in question concerning the family home the contractor was building for her and her husband.
She went to the soon-to-be family home and made another attempt to call Hepburn.
"Yea?" she said the person answered. She said that "the voice didn't sound the same" as the voice she was used to.
"And I said 'Prince?' and the person said 'Yea?' I asked what happened. 'Why you sound like that?'" Mrs James said she asked.
"He said to me," she began, appearing to find difficulty in saying the next words: "'I kill Nellie. Nellie break my heart. Nellie was cheating on me."
"I asked him 'What?'" She said he repeated the statement.
"Prince you joking," she said. "Where's Nellie?" she then asked.
"Nellie's dead," he replied, adding that it happened the night before and he was waiting on the police.
Mrs James said she locked up the place and called an officer she knew and gave him the information before leaving for work.
"I was still in disbelief," she said.
Mr Ducille suggested to this witness that she, based on her own testimony, could not have been sure who she was talking to on the phone.
James said she was sure it was Prince Hepburn she was on the phone with.
Princess Margaret Hospital pathologist Dr Caryn Sands gave evidence about the autopsy report done on Brown-Cox days after her death. Dr Sands concluded that the deceased died as a result of more than two-dozen lacerations and injuries to her body.
The pathologist said that some nine cut wounds were found on Brown-Cox's head and more about her torso and extremities.
The trial resumes today before Justice Indra Charles where the Crown is expected to call more witnesses to testify.
Public prosecution's deputy director Franklyn Williams, along with Kendra Kelly and Basil Cumberbatch make up the prosecutions team.
Mr Ducille assisted by Mason-Smith and Nathan Smith in Hepburn's defense.