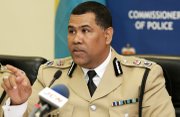 By KHRISNA VIRGIL
Tribune Staff Reporter
kvirgil@tribunemedia.net
POLICE Commissioner Ellison Greenslade says he is concerned about the force's reputation with the public following the number of police brutality allegations and a string of recent deaths in custody.
In fact, Mr Greenslade yesterday said he believes that his organisation has its work cut out in trying to rectify some of their issues.
He was asked by reporters, just moments before the official opening of the newly renovated OPBAT facility in Inagua, if he was worried that alleged police abuse may be tainting the public's perception of the Royal Bahamas Police Force.

"Absolutely," Mr Greenslade said, "I believe that it is an issue that really challenges me.
"Because despite the best intention on my part and the best intention by the Minister, my permanent secretary and all of us in leadership that wish the best for this country whenever those things happen we get a black eye.
"When your public loses confidence in you then, of course, you are on very, very shaky ground. So we have a lot of work to do going forward to try to right some of these things."
And in trying to rectify its challenges, the Commissioner said the RBPF is committed to enforcing the full brunt of the law, even to its own officers who are caught stepping out of line. But he said those situations do not occur on a large scale.
"I continue to remind all of us that no man is above the law in the Commonwealth of the Bahamas.
"And if you offend against the law, the law will take its course.
"We as servants of the people must always be above all with clean hands and must do the work professionally.
"(There have been) a variety of things, (with some of our officers) professional conduct, unethical conduct, actions bordering on criminality and sometimes criminality, exposure to drugs, dishonesty... all sorts of matters," he said.