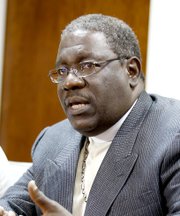 By NEIL HARTNELL
Tribune Business Editor
nhartnell@tribunemedia.net
A leading pastor yesterday told Tribune Business he resigned from CLICO (Bahamas) creditors committee "as a form of protest", adding that he was "disappointed but sympathetic" to the Government's failure to-date to deliver its promised $30 million guarantee.
Bishop Simeon Hall, pastor emeritus at New Covenant Baptist Church, said he was "not optimistic" about the prospects of CLICO (Bahamas) creditors and policyholders recovering the sums they were owed via the company's liquidation.
Arguing that the insolvent insurer's collapse could have been prevented by better regulation from both PLP and FNM governments, Bishop Hall called for improved oversight of foreign-owned companies in the Bahamas.
And, testifying to the human toll the CLICO (Bahamas) collapse had taken on many Bahamians and their life savings, the pastor said he knew of one lady who told him "she can't die" before recovering what was owed.
Explaining why he had stepped down from the creditors committee, which meets to advise and receive feedback from CLICO (Bahamas) liquidator, Craig A. 'Tony' Gomez, Bishop Hall said: "I resigned because I just think we're wasting poor people's time. I resigned as a form of protest."
In his letter to committee chair, Jeffrey Lloyd, the pastor wrote: "I have voiced my utter disillusionment with this prolonged process, and there seems to be no end to this egregious situation. The CLICO debacle ought not to have happened." He also expressed disappointment that other church leaders had failed to "take up this cause which has greatly devastated the almost 40,000 innocent clients".
Echoing similar sentiments yesterday, Bishop Hall said he felt the creditors' committee process was "not helping all the persons affected by this. It was difficult for me to sit through those meetings, and it did not seem to be working. Not at all".
Reiterating that he, too, had lost his pensions savings in the CLICO (Bahamas) insolvency, Bishop Hall told Tribune Business that the Government "ought to have better regulated" the company.
"I put the blame at the feet of both governments, because it seems to have been happening in both of their regimes," he added. "CLICO is capitalism gone sour. When capitalism goes sour, and people lose, what are you to say to the poor? The capitalist system promotes poverty, and CLICO is a dramatic example.
"I met an elderly lady who said she refused to die. She can't die because she's waiting on the CLICO money. CLICO was egregious."
Mr Gomez is understood to be waiting on the Government to come through with its long-promised $30 million guarantee, which will 'back stop' the transfer of CLICO (Bahamas) policy portfolio to another life and health insurer.
No other underwriter will purchase the portfolio without it, but Tribune Business understands that progress may have been made after the liquidator met with Prime Minister Perry Christie, and minister of state for finance, Michael Halkitis, over the matter earlier this week.
With CLICO (Bahamas) having been placed into court-supervised liquidation more than four years ago now, Bishop Hall said of the delayed guarantee: "It is disappointing, but I'm sympathetic, because the Government is faced with a time when there's not much money to do the things it wants to do. Government is money-strapped, and I understand that."
Going forward, Bishop Hall told Tribune Business the Government needed to regulate foreign-owned companies operating in the Bahamas more tightly, so that Bahamians were not left "holding the bag" when these operations went "belly up" and exited.
"One of the Government's primary duties is the protection of its citizens, not just from gun toters but from exploitation," Bishop Hall added. "Policyholders should not be exploited blatantly by companies, and should be protected."
At end-June 2012, CLICO (Bahamas) portfolio contained 13,835 policies with a total surrender value of $20.074 million and cumulative sum assured of $1.093 billion.
There were few new developments detailed in Mr Gomez`s last report to the Bahamian Supreme Court, published back in December. CLICO (Bahamas) Bahamian balance sheet showed a solvency deficiency of $22.162 million at June 30, 2012, with total assets worth $44.794 million outmatched by liabilities totalling $66.956 million.
Mr Gomez had also made little progress in enforcing the $58 million guarantee given in favour of CLICO (Bahamas) by its Trinidadian ultimate parent, CL Financial. If that is successfully enforced, it could repair the hole in the Bahamian insurer`s balance sheet.