By LAMECH JOHNSON
Tribune Staff Reporter
ljohnson@tribunemedia.net
PRINCE Hepburn, a man described by his peers yesterday as "humble", "honest", and "Christian", will learn his fate today when a Supreme Court jury deliberates on whether or not he is responsible for the slaying of his sweetheart, Nellie Brown-Cox.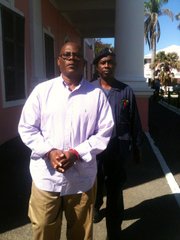 Following counsel's closing addresses to the jury, and summation of the evidence by Justice Indra Charles, a six-man-six woman jury will be asked to deliberate on seven days of evidence given by four defence witnesses and more than a dozen prosecution witnesses.
To convict Hepburn of murder, the jury is required to return a unanimous verdict. For acquittal, two-thirds of the jury must find him not guilty of the murder charge. Anything less, according to Bahamian law, is unacceptable.
Hepburn is charged with causing the death of Nellie Mae Brown, the 42-year-old former president of the Bahamas Heart Association, on April 6 or 7, 2011.
Hepburn and Brown-Cox were involved in an extramarital affair. They had both tried to divorce their spouses to be together.
Brown-Cox was found dead in the kitchen of an apartment on Bougainvillea Blvd, South Beach, with multiple stab wounds.
Hepburn, her partner at the time, was charged in connection with her death six days later when he was arraigned in the Magistrate's Court.
Since his arraignment in the Supreme Court, Hepburn has denied the murder charge and through his attorney Murrio Ducille, maintained that he could not accept responsibility for the crime because he was not in the right frame of mind as testified by Dr Michael Neville, a psychiatrist of more than 30 years experience.
 In yesterday's proceedings, Hepburn called three witnesses who testified about the Prince Hepburn they knew prior to the incident before the court.
Former Assistant Commissioner of Police, Willard Cunningham, was the first to take the witness stand.
Mr Ducille asked the witness if he knew Hepburn and if so, for how long.
"I have known the defendant for more than 20 years," the former ACP said.
"Prince Hepburn is a man of his word. An honest man. A Christian man. A family man. He was a leader in the community because he would go to people's houses and assist them with minor repairs," Mr Cunningham said.
"You're aware of why you're here?" Mr Ducille asked.
"Yes, sir," the witness answered. "When I got the news," he said, "I couldn't sleep for three nights, 'cause that's not the Prince Hepburn that I know. I was shocked.
"I'm still shocked now, I'm to tell you the truth," the former ACP admitted.
In cross-examination, public prosecution deputy director Franklyn Williams asked the former ACP if he recalled describing Hepburn as honest.
"Yes, sir," Mr Cunningham replied.
"Were you aware he was in an adulteress relationship?" the prosecutor asked.
"No, sir. He was a Christian man," the ex-policeman said, adding that even the charge Hepburn was facing was not in his character.
Mr Williams suggested that "the fact is, sir, you really did not know him."
"I did and I still know him," the former ACP said.
An electrical contractor, Dwight Hall testified similarly saying that he had known Hepburn for 15 years following an exchange of numbers during their work on neighbouring projects.
"Mr Hepburn is an honest, hardworking, reliable person. One that will go out of his way to try and assist you any way he can. A fun loving person," Mr Hall said.
When asked by the prosecution if he was aware of Hepburn's extramarital affair, Mr Hall said he was not. He said he did not know Nellie Brown-Cox, nor was he ever introduced to her.
 Pauleen Curry, a property manager who worked with Hepburn for 16 years testified that "all of the customers loved him."
"Nobody complained. He did a good job. Very reliable, never a problem."
She also knew him to be a religious person who did not smoke or drink.
When asked by Mr Ducille how she reacted to finding out that he was charged with murder, she said that "it was very hard to believe."
"That was totally against his character," she added.
When cross-examined by Mr Williams, Mrs Curry maintained that their relationship was "purely" professional and business.
"You didn't live with him?" the prosecutor asked. "No," replied the witness.
"So you only knew what his face showed to you?" Mr Williams asked.
"Yes," she answered.
"So you didn't really know him?" the prosecutor asked.
"I felt I did. It was a big surprise," Mrs Curry answered.
Mr Ducille re-examined her and asked her if she had to live with Hepburn to know him. "No," she replied.
The trial ends today with closing addresses by counsel to the jury and the judge's summation of the evidence.
Court proceedings start at 9am.