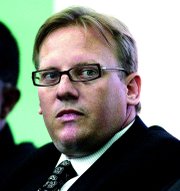 By NEIL HARTNELL
Tribune Business Editor
nhartnell@tribunemedia.net
The Bahamas has taken a "regional lead" in talks with the US over its Foreign Account Tax Compliance Act (FATCA), a Cabinet Minister yesterday disclosing he had spoken to Washington about how the legislation would treat Bahamian financial services products.
Confirming he had met with both the US Treasury Department and Internal Revenue Service (IRS), Ryan Pinder, minister of financial services, said he had "raised" how this nation's financial services industry was "a little different from the rest" due to the diverse nature of its products and service providers.
Among the discussion topics, he added, were how products such as trusts, investment funds and foundations would "be treated under FATCA".
Apart from safeguarding the Bahamas' own interests, Mr Pinder told Tribune Business: "We are advancing as a lead for the region with the US Treasury and IRS.
"We are taking a regional lead on matters that affect the region; obviously technical assistance with FATCA, and monetary assistance to put in the required infrastructure."
Mr Pinder said the Caribbean was also seeking Washington's help on technical assistance for the private sector over FATCA, especially for smaller providers that lacked the capacity to cope with the US demands themselves.
A regional Financial Services Taskforce had been formed, Mr Pinder added, and its second meeting was due to be held in Nassau. He expressed hope that the US Treasury and IRS would have representatives in attendance.
Elsewhere, Mr Pinder described Freeport as "the linchpin" for his regional value-added trade strategy, providing the logistics/transhipment/distribution hub for Caribbean and Bahamian exports destined for the European Union (EU) and other overseas markets.
"Freeport is the key jurisdiction that links it all together," Mr Pinder told Tribune Business. "It can provide logistical savings that no other jurisdiction can provide.
"Freeport is the linchpin for a value-added regional trade strategy."
An extension of what he has proposed for the Bahamas, Mr Pinder said the Economic Partnership Agreement (EPA) provided the regional and export trade preferences that would serve as the basis for growing the region collectively - not in competition with each other.