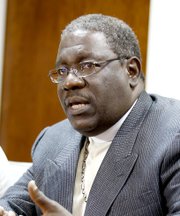 By NEIL HARTNELL
Tribune Business Editor
nhartnell@tribunemedia.net
A senior pastor yesterday called for Bahamian businesses and workers to be placed on "level ground" with their foreign counterparts, warning that failure to do so could create major social unrest.
Bishop Simeon Hall, of New Covenant Baptist Church, told Tribune Business that the belief Bahamians were effectively becoming 'second class citizens' in their own country was increasing, due to issues such as the perceived double standards and discrimination when it came to gaming.
Acknowledging that perception might be different from reality, Bishop Hall warned that "a revolution without precedence is brewing unless government can do more to remove the perception that being Bahamian in today's Bahamas is a liability.
"Whether perceived or real, there is a growing uneasiness that foreigners, 40 years after Independence, still have the advantage in our beloved country."
Expanding on this theme in an interview with Tribune Business, Bishop Hall urged the Government to cut "the red tape" that was creating "so many hurdles" for Bahamians seeking to either become entrepreneurs or expand existing businesses.
"We must find the creativity to welcome investors from the outside but, at the same time, if you put out the red carpet for foreigners you must remove some of the red tape for Bahamians," the well-known pastor said.
"When we do business in this country, there's so many hurdles we must cross - that's the difficulty. In my country, I should at least be more equal than the fellow coming in."
Focusing on the difficulties Bahamian businesses had in obtaining bank financing, the former Christian Council president added: "All the guy has to do is come in with some papers in a briefcase, and speak in a funny accent.
"I have to take all my papers and bring in my grandmother's shoes to at least get in the door, and that's wrong.
"I've been trying to develop a piece of land on the western part of New Providence, and it's one hurdle after the next," Bishop Hall said.
"But enough of me. I know of a young, black Bahamian who has a good, thriving million dollar business on Gladstone Road and he's being pushed out by the big boys, some of whom are foreigners.
"That shouldn't be happening. How can you rush to give the inside track to foreign investors are doing the same thing. The ground needs to be level, and we should have greater favour than the foreign person coming in.
"It is time for black or white Bahamians doing legitimate business here to have a greater edge than foreign entities doing the same business."
Apart from work permits and business opportunities, Bishop Hall said the web shop gaming situation had also ignited suspicions among Bahamians that they were being treated as 'second class citizens' with foreign investors/workers getting preferential treatment.
The discrimination contained in the draft casino gaming reform legislation, which still prohibits Bahamians from gambling in these high-end establishments, has coincided with rising passions over the web shop industry and potential business/investment opportunities being denied to Bahamians.
Following January's 'No' opinion poll vote, and several court rulings, the Government and Royal Bahamas Police Force have been making noises about investigating the web shop industry with a view to shutting it down.
The resulting uncertainty has resulted in a major drop-off in business for the web shop industry, which has warned it may have to lay-off hundreds of staff and close some locations.
Yet, at the same time, web shop operators are pointing to what they claim is the 'hypocrisy' and double standards of allowing Atlantis and other Bahamian casinos to accept online bets/wagers from clients anywhere else in the world. The web shops are arguing this is the same line of business they are involved in.
The situation has again fuelled suspicions that there are two sets of rules, one for foreign investors and another for Bahamians, even though there is no direct link between the web shop and casino gaming issues.
Bishop Hall alluded to this yesterday, saying: "When it comes to gambling, I am of the considered opinion that what is good for Sol Kerzner is good for Craig Flowers.
"This should be addressed by the Government. When people do not have the information, they make their own conclusions. Sometimes, they could have been wrong.
"But, if I can't make it in my own country, I go to the next level, which is sometimes crime and stealing, and the like."