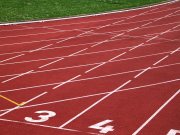 By BRENT STUBBS
Senior Sports Reporter
bstubbs@tribunemedia.net
FRANK Johnson, Clayton Townsend, Lawrence Sweeting and Peter Jones, all now retired from coaching, were honoured Tuesday during the opening ceremonies of the New Providence Principals Primary Schools Sports Association's (NPPPSSA) third annual Bertha's Go-Go Ribs Track and Field Classic.
The ceremony was held on day two at the original Thomas A Robinson Track and Field Stadium. Education director Lionel Sands officially opened the meet while "Golden Girl" Pauline Davis-Thompson, IAAF council member, brought remarks to encourage the athletes.
Although the four men were honoured, Jones was the only one absent. The other three expressed their gratitude even though they all have only retired from coaching within the past two years.
Johnson, who spent a combination of 37 years between the private and public schools, said he was overwhelmed by the gesture of Dawn Knowles, the senior education officer (primary education officer) and the members of the organising committee that she chairs.
"She's a God sent to the ministry and I want to thank God for allowing them to see it fit to honour us in this manner," said Johnson, who spent his latter years at Stephen Dillett. "I miss it, but I'm now at Stapledon School helping children with disabilities and I'm loving it just as much.
"But this reward makes me realise that because of the things you do, you get recognised and so I appreciate all of the hard work that I was able to put in with the children."
Townsend, who served from 2005-2012 at Centreville Primary, was brought to tears as he reflected on his recognition.
"Tears are coming down my eyes right now," he stated. "I'm lost for words as you can see. But I'm very happy. I wasn't expecting this, but after 28 years, eight in the public system, I want to say thanks to everybody who has supported me. Thanks Bahamas. Thanks very much."
For Sweeting, there were mixed emotions.
"I'm enjoying my retirement, but I still miss the children a lot," he said. "In fact, I still go back and coach because I miss it so much."
Sweeting said the NPPPSSA didn't have to take the time out to honour him and his collegiate but, like the others, he's appreciative of their gesture.
"I didn't expect my retirement to come so early, but I had some health issues, so I had to get out of the every day grind of the mill," Sweeting said. "I'm a part-time musician at Sandals and I'm still writing. I have two books called 'A Better Bahamas for You' and '101 Things to Consider When You're Looking for a Wife' and I'm working on two more books. So I'm still busy."
The meet, featuring some 20 primary schools in New Providence, got started on Monday and continued yesterday with a mixture of preliminaries and final events. The meet is scheduled to wrap up today with the finals of the 4 x 100 metre relays, 800, 200, 100, 75, 400 and 4 x 400 relays.
The only field event on the schedule is the triple jump at 10am when the meet begins.
Merve Sweeting, proprietor of Bertha's Go-Go Ribs, said as a businessman, he just wanted to provide an opportunity to assist the youngsters of the inner city and he hopes that through the meet, he can give them a chance to develop their skills and, in the long run, give some support to those coming behind them.
"I want to help them where they are to build their communities and keep them occupied doing some positive things, then you won't have the negative things to worry about," he said. "If I give them something now and bring them up right, as a businessman, I won't have to worry about the negative side."
With this being the third year of their sponsorship, Sweeting said he intends to continue to support the rising young stars of the future, but as a native of Deep Creek, Eleuthera, it's his hope that in the future he can see the meet or a meet (like the former Ovaltine meet hosted by the Ministry of Youth, Sports and Culture) expand to also include the Family Island athletes.
"It's going very well and I'm very pleased with what I see," Sweeting said.
Sweeting was even more thrilled that his older brother Lawrence Sweeting was among those honoured.
"Larry has been working very hard over the years, basically all of his life," Sweeting said. "He's a disciplinarian who knows the ropes, so I'm very proud of him and all of the other honourees. He's done what he had to do and now someone is turning around and telling him thanks. So I'm proud of him and the others who are being honoured. They deserve it."
Lionel Sands, who represented Minister of Education Jerome Fitzgerald, said as the meet continues to grow, they are looking forward to getting it to the standard where it will be appreciated by all of the participants.
"There are still some things that we need to iron out in terms of the clashes that we have with the meet and the schools with their end of the year exams," Sands said. "Once we work that out, we will have a better meet for all of the schools because there are some athletes that want to come here to ompete, but they can't because of their exams.
"So we're getting them, but we're not there yet. We're growing. Over the last few years, we have seen some growth. We're looking over this summer to ensure that we won't have the clashes that we've been having in the past. We only have 171 days in the school year and we have a number of sporting events that are taken up in that time, so we're trying to better coordinate it all."
In her address, which started with the song 'Stop the World and Let me Off,' Pauline Davis-Thompson said she wants to encourage the athletes to be all the best they can be, not just on the athletic field, but in the classroom.
"It can help to improve their health, self-esteem, behaviour and give them life skills that they can use in whatever fields they decide to go into," she said. "Good education and healthy living should be the primary focus of the stakeholders of these children of our Bahama islands."
Through education and sports, Davis-Thompson said children can learn to love and respect the Bahamaland, making sure that it stays clean and pristine. And she advised the youngsters to stay off Facebook and pick up their books so that they can learn the fundamental skills of life.
Davis-Thompson then encouraged the athletes to go out and compete to the best of their abilities and remember that they are all winners because of the fact that they took the opportunity to participate in the meet as they represent their particular schools.
Last year, Cleveland Eneas won the meet with Carmichael Primary second and Claridge Primary third.