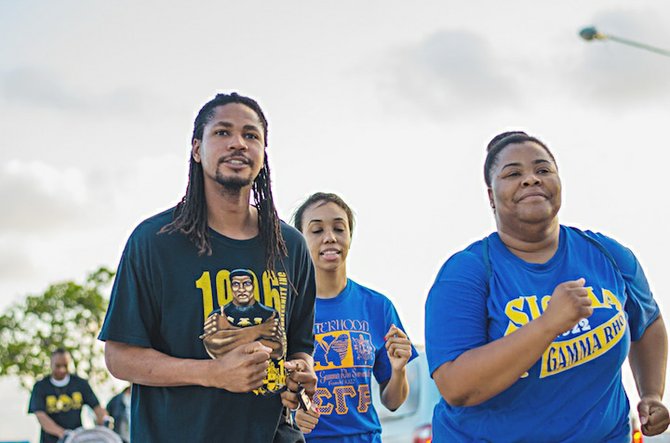 THE NASSAU, Bahamas, National Pan-Hellenic Alumni Council gathered at Arawak Cay for the 1st Annual NPHC Fun, Run, Walk.
Members of the historically black, 'greek letter' organisations, along with family, friends and supporters gathered to promote healthy lifestyles and wellbeing.
More than 100 participants of various ages took to the route, from West Bay Street to Goodman's Bay, with much excitement as they walked together celebrating better health.
The winners were:
Under 15: Marcus Williams, 1st place (Overall Winner); Jason Williams, 2nd; Infiniti Ingraham, 3rd.
Under 30: Santisha Martin, 1st place; Wayde Stubbs, 2nd; Devon Lightbourne, 3rd.
Under 40: Demario Minus, 1st place; Drexon Thompson, 2nd; Diallo Ingraham, 3rd.
Under 50: Christopher Johnson, 1st place; Kevin Bethel, 2nd; Dwight Marshall, 3rd.
Over 50: Terrance Murray, 1st place; Margo Strachan, 2nd; Brian Albury, 3rd.
The local National Pan-Hellenic Council (NPHC) comprises of Alpha Phi Alpha Fraternity Inc, Alpha Kappa Alpha Sorority Inc, Kappa Alpha Psi Fraternity Inc, Omega Psi Phi Fraternity Inc, Delta Sigma Theta Sorority Inc, Phi Beta Sigma Fraternity Inc, Zeta Phi Beta Sorority Inc, and Sigma Gamma Rho Sorority Inc alumni chapters.
NPHC is recognised locally for the service to the community including community clean-up sessions, food and clothing drives and youth mentoring groups, contributions to the Simpson Penn Centre for Boys, Red Cross, Salvation Army and Cancer Society and the renowned awards programme, The Bahamas Primary School Student of the Year Awards.
Saturday's event was a precursor to the council's 'Greek Month' (May) and a summer of projects, socials and other events. More specifically the council looks forward to the May 11 community clean up in the Bain & Grants Town area and the annual Barefoot Summer Jam Step-show on August 17 at the Rainforest Theatre, Wyndham Nassau Resort.