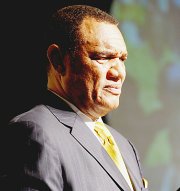 INTERNET users have graded the PLP a resounding 'F' after the government's first year in office since the May 2012 General Election.
We asked users on our website www.tribune242.com 'after one year in office, what grade would you give the PLP government?'
Of the 1017 votes cast by 6pm last night, 87 per cent said 'F'; Five per cent said 'E'; 4.5 per cent graded them 'D'; 1.5 graded 'B' while A and C each garnered one per cent.
Tomorrow, it will be one year since Perry Christie led the Progressive Liberal Party to victory. The PLP made a number of promises, some of which were to be completed within 100 days of a win, others due in the course of the party's term in office.
The Tribune is examining these issues this week as we put the PLP's first year under the spotlight.
• Has the government delivered on their pledges over immigration, National Insurance, the economy, crime, education, health, transportation and the digital age?
• Last April, the now Deputy Prime Minister Philip Davis said: "Vote for a PLP government that is ready to create 10,000 immediate new jobs for young Bahamians."
What has the record been on employment?
• What happened to the opposition in the wake of their defeat by the PLP?
IF you have an opinion on the PLP's successes or failures, please contact Paul Turnquest on 322-1986 or email newsroom@tribunemedia.net and share your views.