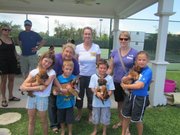 TWO of the Bahamas' leading potcake spay and neuter, rescue and adoption centres got a boost from the younger generation.
Baark and the Bahamas Humane Society (BHS) were thrilled to learn three young philanthropists, Paige Smith, Oscar and Harry Roberts, were planning a "Dog Day" in Old Fort Bay, to raise awareness of the plight of Bahamian potcakes.
Residents from the community and neighbouring areas came with their children, their own potcakes, and purebreds to support the cause.
The BHS and other individuals brought rescued potcakes to the Old Fort Bay park in all shapes and sizes, colours and coats, all looking for their 'forever home'. Some came to share their stories with the community.
Half a dozen pups found foster homes, with a number of adoptions pending. Paige, Oscar and Harry, aged seven, eight and six years old, raised more than $500 through the bake sale, hoopla and basketball games, while BHS and Baark were able to match their earnings through the sale of 'doggie' items.
The Baark message of the morning was 'don't buy or breed, we have so many beautiful dogs and cats available for adoption, please be responsible with your pet and neuter or spay them.'
The generosity of the participants was truly heartwarming, with some school children donating their pocket money to help feed, house, neuter and provide medicine for the rescuees. The day was especially poignant as many potcake lovers were still reeling from the tragic news of the death of two long term champions of the cause, Ron and Jill Gandza, who were killed in an horrific accident in Exuma on April 25.
One new foster mum said: "After hearing what these two wonderful people did for our Bahamian potcakes, caring for these delightful animals, and finding countless dogs homes as far off as Canada, how could I say no to having a few in my home, mere moments away."