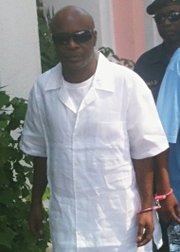 By LAMECH JOHNSON
Tribune Staff Reporter
ljohnson@tribunemedia.net
BEFORE abandoning his appeal to challenge a life sentence for the murder of a policeman, a man indicated to Appeal Court judges yesterday that he was seeking mercy from the courts having been in prison for 20 years.
Appeal Court president Justice Anita Allen, however, told Sean Poitier that the country's second
highest court was not the place to make that application but rather to the Advisory Committee on the Prerogative of Mercy.
Poitier said he had petitioned that branch for the past four years, but was not given an opportunity to appear before them.
Poitier was convicted and sentenced to death on August 16, 1993 for the murder of Constable Truman Cooper in 1992. He appealed this to the appellate court, though his application was dismissed in 1995.
The man petitioned for leave to appeal to the London-based Privy Council but that application was rejected in 1996.
However, the Privy Council handed down a ruling in October of that year that executing a prisoner who has spent more than three and half years on death row would violate their constitutional rights to freedom from cruel and inhumane punishment.
He was scheduled to be hanged in January 1998, but that did not take place. Nearly a decade later, in 2007, he was resentenced to life imprisonment. However, he applied to challenged that sentence as well.
In yesterday's proceedings, Poitier appeared before Justices Allen, Christopher Blackman, and Abdulai Conteh along with his lawyer, Roger Gomez II.
Mr Gomez II told the court that his client, with whom he spoke two days before the proceedings, was seeking to abandon his appeal.
Poitier was asked by Justice Allen if this was his intention and he answered that he was seeking relief or mercy from the court instead of appealing the sentence on the basis that it was harsh.
"I think you're in the wrong place," Justice Allen said, noting that the application should be made to the Advisory Committee on the Prerogative of Mercy.
The judges inquired from the lawyer if he had pursued that route on behalf of his client. Mr Gomez II said he had not done so, but would do so following the proceedings.
"If you're not appealing the harshness of the sentence, we're minded to dismiss the appeal," Justice Allen said.
Justice Conteh commented on Poitier's situation after he told the court that he had written to that agency.
"He's entitled to a response to his petition. He may or may not get it but he's entitled to a response," the judge told Mr Gomez II.
The lawyer then asked the court if it would make an order for his client to be allowed access to the educational programmes available at the prison, adding that "I would've thought that would've been the reason for rehabilitation."
"I think that would be treading on dangerous grounds," Justice Allen said, noting that the court had no control over prison policy and politics as to who could or could not be allowed into programmes.
Justice Blackman said the prison might have concluded that it was not in its best interest to allow Poitier to participate in the programmes.
Poitier said that he wasn't allowed full access to the programmes, but was successfully able to complete his BGCSE's.
Justice Allen noted that in his circumstances, "that you've gotten your BGCSE's is commendable."
Referring back to his situation concerning the Prerogative of Mercy, the justices told Mr Gomez II that there were other ways of going about getting a response from the branch.
The court then dismissed the appeal.