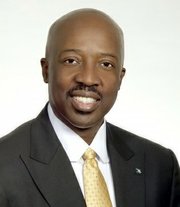 By KHRISNA VIRGIL
Tribune Staff Reporter
kvirgil@tribunemedia.net
THE government will do all it can to pursue money paid out in National Insurance bonuses if it is found that they were obtained without proper authorisation, according to Labour Minister Shane Gibson.
This admission came as a shock to many as up to this point no one in the Christie administration has made a reference as to what is to come next in the NIB situation which has gone on for months.
Mr Gibson had been questioned continuously on whether legal action would be taken against suspended NIB Director Algernon Cargill and axed Chairman Greg Moss, but on several occasions he said he was unsure.
"If it is found that the funds were gotten illegally," he said, "I will pursue it to the fullest extent of the law."
Mr Gibson was a guest on a local radio talk show on Wednesday night when he answered questions from callers about NIB.
While The Tribune was not able to contact Mr Cargill's lead lawyer, Alfred Sears, after several calls and an e-mail, the legal team has insisted that all false allegations and misrepresentations of their client will be fought.
He had asked this newspaper to contact him yesterday on the next steps for his client allowing him time to become familiar with the audit report they received. 
As an official release of the audit reports in their entirety have yet to be released. It is still unclear if the government-contracted auditors, Grant Thornton, found anything incriminating against Mr Cargill.
In view of this, FNM Chairman Darron Cash earlier this week called on Mr Gibson to reveal the much touted "shocking" details of the report.
"With respect to the Minister's continuous reports of shocking revelations the question is: "Where is the beef?'
"This is a giant smoke screen and a diversion from Mr Christie's one year anniversary of failure and incompetence" he said.
"The cost of this exercise has been considerable and the government has paid a fee price in its credibility."