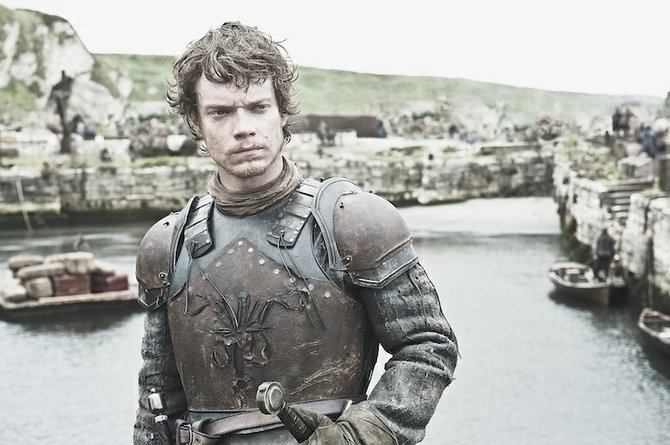 Part Two Of The Big T's Two-Part Game of Thrones Special
By Karin Herig
Big T Editor
kherig@tribunemedia.net
THE question of whether the sex and violence shown on 'Game of Thrones' are gratuitous has been raised since the start of the awarding-winning show, but according to one of its stars, all the bloodshed and nudity serve the purpose of making the story more real.
Sporting new platinum coloured locks (which he dyed for an upcoming film), British actor Alfie Allen sat down with the Caribbean press during a recent HBO Latin America press junket in Miami to discuss the third and current season of the hit fantasy show.
The 26-year-old Allen plays Theon Greyjoy, the heir of Lord Balon Greyjoy who has been held as a hostage of House Stark since his boyhood after his father's uprising against King Robert Baratheon failed.
Theon grew up as one of the Stark siblings, but that did not stop him from betraying them when he saw an opportunity to impress his father by capturing House Stark's seat, Winterfell.
At the end of season two, Theon had failed in his bid to hold Winterfell and was captured by enraged Northmen who mistakenly believed that he had murdered two of the Stark boys.
Now, season three finds Theon at the mercy of Ramsay Snow, who is seemingly torturing him for his crimes.
Throughout the seasons, on his path to self-realisation, Theon has often found himself in sex related and torture scenarios, but Allen said he feels these scenes always serve the plot and he has no problem filming them.
"I feel fine being part of it, I don't feel wrong about that. If it's gratuitously done, it's wrong, but I think in (Game of Thrones) it's very real. (Sex and violence) happen in real life, so why not, why can't we show that on screen?
"I think it's needed. I don't think it's just there for the audience to see (naked skin)," he said.
As for the violence specifically, Allen said people have an age-old fascination with seeing bloodshed and fight scenes, and that no one is really above finding a particular skilled sword move "cool".
But while filming especially gruesome torture scenes for the show's third season doesn't bother him, Allen admits that he does find it challenging.
"The first torture scene was tough, trying to reach that level of emotion, because I didn't have any real life experiences to draw on. I have definitely been mentally tortured by a few women, but not physically," he joked.
Another challenging scene to film was the aborted violent rape of his character in episode three of the new season.
"It was tough and not really something to be laughed at; it's pretty horrible," he said.
However, Allen recalled that the Game of Thrones' crew decided to lighten the mood with a visual joke.
"I remember we had the storyboard (for that scene), and in the storyboard they made me look happy about (the near rape experience)."
While he has done full frontal nudity for show before, the British actor chose a stand-in for the cheek-bearing scene in this episode and said he hopes the viewers appreciated his choice of derriere.
But aside from the failed rape, filming sex scenes are pretty easy and always enjoyable, Allen said.
"With those sort of scenes you just have to get on with it and enjoy it as well. Once you're nervous, the other person is going to become (nervous) and it won't ring true."
Wanting to look his best for the nude scenes and also to give a good representation of a hardened warrior, Allen said he hit the gym and lost weight.
To achieve his desired physique, the actor said he changed his diet completely, but in a "common sense" way by cutting out sugary drinks, reducing his intake of carbohydrates and drinking lots of water.
"When I'm doing those nude scenes and sex scenes, it's going to be up there for eternity, those things, so you want to make sure you're in the best shape you can be, because people are going to be rewatching it over and over again...hopefully," he said.
In addition to withstanding long and grisly torture sessions this season, Allen's character is also on a journey of finding himself and achieving redemption.
"Theon's biggest challenge is realising he has nothing to prove to anyone, that he just needs to get on with his life and be Theon, and not be a Greyjoy and not be a Stark, but just be his own person," Allen said.
"And he kinda does that in episode four (of season three); he's on the path to realising it and gets severely punished for it."
Allen describes Theon as a lonely character, someone who is often surrounded by other people, yet still feels very much alone. And it is this loneliness that the actor said is sometimes challenging to portray.
"That was hard; it can be demoralising at times...(portraying) that lonely state of mind the whole time," he said.
With more screen time in seasons two and three and a presence in key, game-changing scenes, the character of Theon has captured the fans' attention.
"One of the things I love about the character is he's real, he's not a hero, he's a real person. He makes mistakes and he's a bit of a boy really. And you're going to see him grow into a man, hopefully, in a really f* up way," Allen said.
The British actor said he feels viewers relate to Theon because he's someone who displays very human flaws.
"Everyone wants to relate to the hero and be a hero, but when it comes down to it, we're not all perfect human beings, are we?"
And while his character has increasingly become the topic of heated discussions between fans, and the show itself has grown to dominate the pop culture landscape, Allen said there's really no pressure for him.
"It's cool, but I don't really feel the pressure. I don't trawl the Internet or do stuff like that. I'm not on Facebook and I'm not on Twitter, so I don't really see those sides of things – not because of Game of Thrones, I just don't like Facebook or Twitter. I think Facebook is on the decline right now. I think a lot of people are getting bored with it. A lot of young children are not joining up, I think it was just sort of a fad...and I was the first one to get off it," he said jokingly.
But while he may not get the full Internet experience when it comes to fandom, Allen said he loves the fact that the show has become so huge and continues to attract more viewers.
"It doesn't really add pressure for me. I love that, love performing. I love theatre, I love performing in front of big audiences, I buzz off that. That more and more people love (Game of Thrones), I just think it's great," he said.
FAMOUS ROOTS
Alfie Allen is not the only famous person in his family.
His father, Keith Allen, is a British comedian, singer-songwriter and actor. His mother is film producer Allison Owen, who has worked on movies such as "Shaun of the Dead" and "The Other Boleyn Girl".
But it is undeniably his big sister, pop star Lily Allen, who is currently the most famous of his family members.
A Grammy-nominated singer, her hits include "Smile" and "5am" featuring T-Pain.
CLOSE ENCOUNTERS
NOT all fan attention will be positive attention, and Alfie Allen can personally attest to that.
Allen said his weirdest encounter occurred when he was leaving the US to travel back to the UK during filming season two of Game of Thrones.
"I was going through US Immigration; it was halfway through the second series – so obviously I got a bigger part in the second series, people knew me more and I was doing sort of despicable things – and I handed my passport to this guy and he was giving me a bit of look.
"They're always doing that at Immigration anyway, they're always checking you out, so I thought it was just routine. (The Immigration officer) looked at me, looked at my passport again, looked at me and sort of half put it out to me, so I thought he was giving it back to me.
"I went to take it off him and he didn't let go of it, and he just looked at me again and went, 'You know everyone hates your character, right?"
Allen joked that he quickly hurried along, thinking, "all right, bye, I'm leaving the country."
But while the actor admits that he occasionally gets insults hurled at him on account of his character's actions, there are other cast members who get worse treatment.
Case in point, 20-year Jack Gleeson who plays Joffrey Baratheon, the cruel and arrogant young ruler of Westeros.
"I feel sorry for (Jack), because he gets it bad," Allen said.
"He's a small guy, he's not the most intimidating fellow. He gets it quite bad. I don't really get that, except for people saying, 'you're a'.
"Poor little Jack, he's the nicest boy, such a lovely kid, and I know people think that we say this so people will know he is a nice guy, but he literally is one of the nicest people I have ever met in my life. And he is so smart and so clever that none of it really gets to him, he doesn't let any of it seep into his head; it doesn't give him any insecurities whatsoever."