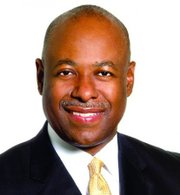 By DANA SMITH
Tribune Staff Reporter
dsmith@tribunemedia.net
THE previous Ingraham administration did not stop any tourism policing programme, rather they expanded the "ill-formed" programme because the individuals involved were not adequately qualified, opposition leader Hubert Minnis said yesterday.
Advising current Tourism Minister Obie Wilchcome to "check his facts," Dr Minnis explained the tourism policing programme was still operating under the last FNM government.
Mr Wilchcome had criticised the FNM on Tuesday for reportedly stopping the policing programme which the PLP had implemented in their 2002 to 2007 term.
Mr Wilchcombe had said: "When I hear the leader of the opposition speak this morning... which annoys me because when the FNM stopped the tourism police we had put in place in the last administration, they should have left it. It would have, by now, manifested into what it was suppose to have been.
"But they stopped it and then they had to re-engineer something else with the Royal Bahamas Police Force. But we had a force out there intended to protect the hot spots of tourism and the places where the tourism guests regularise."
In response, Dr Minnis said yesterday: "First of all, the minister needs to check his facts. We never stopped it. They had a programme in place; it was ill-formed."
Individuals were not "properly trained" to be career policemen, Dr Minnis explained.
"We improved on the programme in that we ensured that those individuals whom would have only had six weeks of training – we ensured that we brought in career policemen who would have been properly trained through the police programme," he said, adding the previous administration also "improved" the facility they currently use.
"The tourism policing is still there; we have career policemen who do that," Dr Minnis said.
"The commissioner has said on numerous occasions they've identified hot-spots; hot-spots need to be monitored aggressively, and we need to definitely protect our visitors and our guests. But the PLP minister, they need to stop this blame game and in fact, what they need to do is start governing."