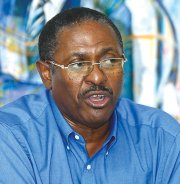 By SANCHESKA BROWN
Tribune Staff Reporter
sbrown@tribunemedia.net
PLP CHAIRMAN Bradley Roberts said yesterday that the NIB Forensic Audit exposed another "FNM mess" the PLP is now forced to has to clean up.
In a statement, Mr Roberts said FNM leader Dr Minnis and chairman Darron Cash can "prance up and down" and deflect all they want, but the FNM is culpable and must accept responsibility and be held accountable for the NIB mess.
"There is no acceptance of responsibility, no public apology or gesture of atonement on the part of the FNM leadership, only distractions away from this major failure in their governance," he said.
"It was none other than Hubert Ingraham who gloated to a Nassau Guardian reporter that the NIB scandal was the making of the PLP and washed his hands when he boasted: 'I hired Cargill, I thought he did a wonderful job at NIB. We left the place in good shape.' The jury is now in, Mr Ingraham and his Cabinet's stewardship of the people's monies were weighed in the balance and he and his cabinet were found to be woefully wanting."
Mr Roberts said Dr Minnis should be embarrassed by his constant flip flopping and should also be held culpable. He also said the FNM cannot criticise the PLP for "wasting money" when former government wasted millions of the people's money.
He said: " The fact is Dr Minnis sat around the cabinet table when the National Insurance Act was violated . . . Dr Minnis is culpable and must account to the Bahamian people.
"As for Darron Cash, most Bahamians by now have dismissed him as lacking credibility. It is inexcusable and unbelievable that a purported professional accountant would see nothing wrong with the obvious lack of corporate governance and wanton disregard for standard accounting practices as reported in the NIB audit.
"The FNM and their apologists have no moral authority to criticise the PLP over costs because it was none other than Hubert Ingraham who in his infinite wisdom used the public treasury to finance not one but two commissions of inquiry where the FNM brought in foreign commissioners to the tune of millions of dollars.
"The PLP supports the Prime Minister's decision to engage an independent auditor to review NIB accounts, as the process was transparent and free of political interference, giving the process and results greater credibility."
Mr Roberts said the PLP remains confident that under the leadership of both Shane Gibson and Fr James Moultrie, the appropriate measures will be put in place to safeguard the assets of NIB and restore public trust and confidence in one of our most important institutions."