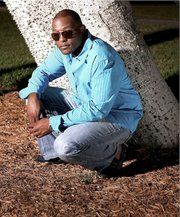 By JEFFARAH GIBSON
Tribune Features Writer
jgibson@tribunemedia.net
MEMBERS OF the Rat Pack collective are headed to South Florida for the largest Memorial Day weekend event, Best of the Best International Music Festival, to be held at the Bayfront Park in Miami, Florida.
Bahamian artists Sammi Starr, D-Mac, Mdeez, and Sosa Man make up the musical conglomerate. Each artist performs a different genre of music: Rake & Scrape, Reggae, Hip Hop and R&B, respectively.
Best of the Best is one of the largest Reggae, Hip Hop, R&B and Soca festivals in North America. The show is a 10 hour-long experience with some of the best live Caribbean and urban music performances. Sammi Starr was the first Bahamian entertainer to grace the stage during the 2011 Best of the Best event.
What connects the artists in the Rat Pack is their keen interest in seeing Bahamian musicians unite despite their differences.
Local promoter Terrible T who works closely with BOTB producers said the Rat Pack's musical diversity made them the perfect pick to perform during the concert. 
"The first several years of the concert there were no Bahamian artists featured. Because there were so many people coming from the Bahamas to the event, we decided to include a Bahamian artist on the lineup. Sammi Starr (was the first) and he opened for Nicki Minaj and several others. For this year we wanted to have a Bahamian lineup and we wanted to pick a group of artist who worked closely. As some people know all of them sing a different genre of music.
I wanted to show them that we have talent right here. They already perform together and because of this we believed they would be able to put on a good compact show," he told Tribune Entertainment.
Although it is not clear exactly what time The Rat Pack will perform Terrible T said the group will perform during prime time. There performance is also expected to be under 20 minutes.
Rat Pack member D-Mac said they are excited to perform this Sunday.
"This will be the biggest event we ever performed to. We have performed during big events at home, but this will probably be the biggest. We have so much planned for this show, and we will pull all the stops to put on an incredible show," he said.
Burns House and Heineken will take care of the artists expenses while in Miami.
BOBT is produced by Rockers Island Entertainment, in conjunction with Massive B. The franchise remains America's largest multicultural, family-oriented festival, consistently welcoming thousands of visitors from urban centers around the United States, including New York, D.C., Atlanta, Houston, as well as from the Caribbean, South America and Europe.
The blockbuster lineup for BOTB 2013 includes Beres Hammond, Freddie McGregor, Beenie Man, Sanchez, Cocoa Tea, Elephant Man, Mad Cobra, Singer J,Mega Banton, Chronixx, Konshens, Patrice Roberts, Lyrikal, Skinny Fabolous, JW & Blaze.
Terrible T also celebrates a first as a host of the show. He said he hopes Bahamians come out to support the Bahamian artists performing. 
"I think a lot of people will respect the talent in the Bahamas at the end of the event. If Bahamians can I would like them to come and show support," he said.