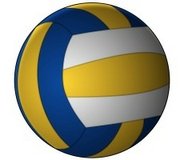 THE Kingsway Academy Saints junior girls volleyball team defeated the St Augustine's College Big Red Machine to emerge as the Bahamas Association of Independent Secondary Schools junior girls volleyball champions.
Entering the playoffs in the second spot, the Saints were determined to become victorious. With a 4-2 win-loss record, having been defeated by SAC and Queen's College during the regular season, Kingsway Academy's captain Ashley Webb expressed that the team was insistent on payback.
"We knew that we could beat them," she said. "We just had to keep our head in the game and we did it."
Coach Juliet Douglas-Sands reiterated that the team was up to the challenge. "During the playoffs, we went up against QC and defeated them in two sets, which qualified us for the championship game against St Augustine's."
The Big Red Machine got out to an early lead, winning the first set 27-25. However, coach Oswald Moore encouraged the Saints to remain focused, thus Kingsway Academy was successful in winning the other two sets 25-18 and 15-11 to capture the championship title.
Ashley Webb was named the most valuable player for the Saints, while Christia Fowler was their best server.