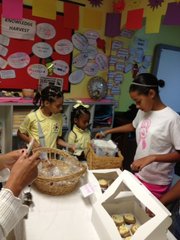 THANKS to the motivation of one thoughtful student, the sixth graders of Summit Academy came together to raise much-needed funds for the Cancer Society of the Bahamas.
Planning began in mid April, when Marlies McCartney approached her class teacher for permission to host a bake sale at school.
She was motivated to raise funds for the society because she lost her paternal grandmother to the disease, and her father is a cancer survivor.
Having had such personal experiences with the disease, she was determined to have a very successful bake sale. With full support from her parents, teacher and principal, Marlies enlisted the help of two of her classmates and their parents.
Chloe Ferguson and Allana Knowles then joined Marlies for a day of baking at her home.
With flyers displayed to inform the school community of the bake sale and it's purpose, all the plans for the big day were coming together.
On April 22, the bake sale day, all of Marlies' other classmates, Carisa Brogdon, Benjamin Derbyshire and Richard Spurlock, willingly assisted in preparing the room for the bake sale.
Despite the inclement weather, and a last minute relocation of the sale, the Summit Academy family followed the balloons and brightly decorated banners and flyers, to the grade six classroom for the highly anticipated bake sale. Supporters purchased from a wide variety of baked goods, from red velvet cupcakes and giant chocolate chip cookies, to brownies and scones. With mouths full and smiles of satisfaction, many of the students and parents offered a bit more as donations.
Having made an impressive amount from the bake sale, Marlies, Chloe and Allana were able to secure further donations from Summit Academy and Scotia Bank, where Marlies' mother works.
After extending a heartfelt 'Thank you' to the Summit community through their teacher, the girls were able to make a cheque presentation to Mrs Roberts from the Cancer Society on the school's campus.
Principal Gillian Wilson, class teacher Robynn Moree, other teachers, and the Summit Academy family as a whole expressed pride at the great level of citizenship and caring that Marlies, Chloe, Allana and their classmates have demonstrated through the planning and execution of such a wonderful event.