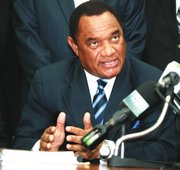 By DANA SMITH
Tribune Staff Reporter
dsmith@tribunemedia.net
THE government says electricity costs could decline by nearly seven per cent when the Bahamas Electricity Corporation becomes exempt from excise tax on fuel imports as part of the 2013/2014 fiscal budget.
Prime Minister Perry Christie announced the adjustment in the House of Assembly, yesterday, calling it "a most important change".
He said: "BEC will again be exempt from excise tax on fuel imports as a means of providing relief on electricity costs, which are projected to decline by 6.6 per cent as a result.
"In this regard, I would stress that we are undertaking a critical examination of all energy proposals that we have received, such as that in respect of waste energy, such that we can move forward expeditiously with measures to reduce energy costs in his country."
However, the prime minister also noted that BEC – as well as other government corporations, such as the Nassau Airport Development company and the Bridge Authority – are proposed to be subject to a business license tax.
This tax comes as a means of "enforcing greater discipline" on resource usage by these entities, Mr Christie said.
The prime minister had also said in the House that for "environmental reasons," the government is proposing to align the tariff rate on inverters for solar panels to zero, in line with the new duty-free treatment for panels.
The duty on LED appliances is also being eliminated in the 2013/2014 budget, Mr Christie said, to bring it in line with the treatment of LED light bulbs.
The hoped-for 6.6 per cent decrease in electricity costs by way of the tax exemption was announced a month after BEC chairman Leslie Miller said Bahamians could see a 25 per cent reduction in their electricity bill by the end of the year if new plans come on stream.
Addressing the Bahamas Society of Engineers at their monthly luncheon, Leslie Miller said part of that a reduction – representing a 10 per cent cut – is "on track" to be seen by this summer, with an additional 15 per cent reduction dependent on the corporation securing less expensive fuel.
"We are very hopeful – and I believe it's going to be done between now and July – you should see anywhere from a seven to 10 per cent reduction in your electricity bill," he said. "I believe we are on track to have that done."