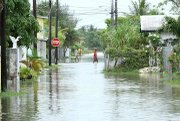 THE National Emergency Management Agency helped several residents in New Providence whose homes were compromised after yesterday's rain.
A special care resident had to be evacuated from her home on Romer Street, Fox Hill. The Department of Social Services made arrangements for her to be housed at the Colony Club until her home is restored to livable conditions.
A female resident of Samson Street and Alexandria Boulevard, Nassau Village declined to be evacuated from her home to the Agape Full Gospel shelter. She had called that her roof caved in due to the rain.
Another female resident of Stapledon Gardens also refused to be evacuated to a shelter. She reported that a portion of her roof also caved in, forcing her to bail out water from her kitchen and two rooms.
About 20 residents in New Providence requested tarpaulins to cover their leaking roofs.

Social Services confirmed the opening of St Barnabas Anglican Church on Wulff Road and the Church of God, Gambier as shelters, which opened at 8am.
Cat Island Administrator Jackson McIntosh reported rain but sandbags were prepared for the weather.
On North Eleuthera, Family Island Administrator Jolton Johnson reported that although there was a downpour earlier in the day, there was no flooding in the settlements.
Four shelters were approved on Freeport – Wesley Methodist, Zion Baptist, Inagua Gospel Chapel and St Philips Community Centre.