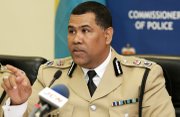 By SANCHESKA BROWN
Tribune Staff Reporter
sbrown@tribunemedia.net
COMMISSIONER of Police Ellison Greenslade said the Royal Bahamas Police Force is looking at alternative means of detaining "belligerent" suspects.
Mr Greenslade acknowledged complaints by the public about "overly aggressive officers" and said he is researching solutions other than the use of firearms.
He said: "We have to look at other means of restraining these guys.
"We have to find a way, some other means, some other solution before we resort to using firearms. We are looking into it."
The commissioner's comments came five days after a man was left in critical condition after being shot by two police officers.
It happened last Friday in the Kemp Road area.
Head of the Central Detective Unit Superintendent Paul Rolle said the man was wanted by police in connection with an assault with a deadly weapon investigation.
He said police were on routine patrol in the area when the spotted the man in Williams Lane. When the suspect saw police, it is alleged that he took out a firearm, shot at the officers, then ran.
Police chased the man and found him on a dead end street where another exchange of gunfire took place and the suspect was shot multiple times in the legs. He was listed in critical condition in hospital.
Residents in the Kemp Road area accused the police of being too aggressive and "to eager to shoot".
Commissioner Greenslade said he has personally looked into that incident and will address the public on the matter shortly.
"There was an incident in a community in the eastern portion of Nassau where it was alleged that someone pulled a gun on officers.
"As a result, weapons were discharged and a young man was seriously injured.
"I have personally taken a closer look at this case," he said.
"I saw the victim last night and also met with the family and had a chance to speak with the senior commander and officers involved.
"I have to be very careful with this but I am not going to point a finger at the community or the young man in a negative way. The situation in under review.
"I told the people concerned that I am going to do what is right and I will leave it there.
'It was an unfortunate situation and I am not going to say more.
"When the file is complete, I will make a determination and I will make a public statement."
Mr Greenslade made his comments while appearing as a guest on the Ortland Bodie Show.
Last year, there were 243 complaints filed against police officers. Of that number, 128 claimed assault.