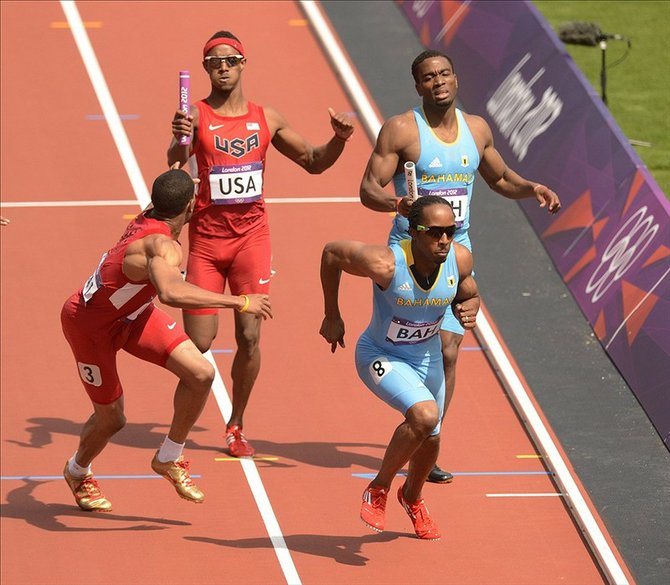 By BRENT STUBBS
Senior Sports Reporter
bstubbs@tribunemedia.net
WITH his part-time role as a promoter on the back burner, quarter-miler Chris "Fireman" Brown is now concentrating on turning up the heat again on the track as a full-time professional athlete on the IAAF Diamond League this weekend.
After taking a break from his training regime to stage his inaugural Chris Brown Bahamas Invitational at the new Thomas A Robinson National Stadium on April 13, Brown is now preparing to step on the track in his debut in the 400 metres at the Prefontaine Classic in Eugene, Oregon, on Saturday.
In what could be considered a prelude to the IAAF World Championships in Athletics in Moscow, Russia in August, Brown is expected to be matched up against a field that includes Grenada's Kirani James, the current world champion, and former world champion LaShawn Merritt of the United States, who won the 400 and 200 respectively at Brown's meet.
"It feels good so far," said Brown in an interview with The Tribune on Thursday from Eugene where he's getting ready to compete on Saturday in one of the most anticipated events. "I just give thanks to God for keeping me healthy and allowing me to do what I do. I look forward to racing again."
And looking at the calibre of international competitors entered - Belgium's twin brother Kevin Borlee, Trinidad & Tobago's Lalone Gordon, Czech Republic's Pavel Maslak, American Tony McQuay and Dominica's Luguelin Santos - Brown admitted that it's not going to be an easy opener.
"With all these guys coming in with at least 3-4 races already under their belt, I know that I'm going to have to run hard," he said. "But I'm not concerned because I know I'm ready."
Except for running on the men's 4 x 400 metre relay team at the Penn Relays in Philadelphia, Brown said he was unable to compete in any other races because of his hectic schedule in trying to pull off his invitational.
"I had to pull out of a few meets to get ready," he said. "My training was definitely pushed back a few weeks. That's why I'm opening up so late. But that's all behind me. I'm back in the arena as an athlete and so I have to prepare myself for the game. My preparations have been great.
"I don't think that I would have come to such a hot competition like this if I wasn't ready. I'm confident that I can go out there and put down something really nice."
However, the veteran 34-year-old Bahamian national record holder at 44.40 seconds declined to review his projection. As a point of interest, 20-year-old James (44.02) and 26-year-old Merritt (44.60) have posted the fastest two times so far for the year. Santos, 19, is next at 44.74.
"I have one or two times in my head, but I will just let it come knowing that this is just my first competition," he said. "I just want to be able to get my legs under me again and embrace the opportunity to come out and perform and be a part of the Golden League series."
Following Oregon, Brown is slated to travel to Rome to compete on June 6 before he returns to his home base in Atlanta, Georgia, to prepare for the Bahamas Association of Athletic Associations National Open Championships at the Grand Bahama Sports Complex June 21-22.
The Prefontaine Classic is fourth in the Diamond League meets. The others held so far were in Doha, Shanghai and New York. The next race in the series is the Golden Gala in Rome on June 6. That will be followed by the Exxon Mobil Bislett Games in Oslo, Norway, on June 13, which Brown is expected to skip.
The Diamond League encompasses 32 individual event disciplines with a points scoring 'Diamond Race' which runs throughout the 14 meeting series.
Winners of each Diamond race will get a Diamond Trophy, a cash prize, a wild card for the IAAF World Championships (certain conditions apply) but more importantly, will have shown season long consistency to earn the unchallenged honour of being the World No.1.