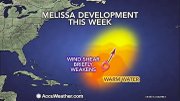 Subtropical Storm Melissa formed in the central Atlantic this morning, with swells already affecting the southeastern Bahamas.
The system, located about halfway between Africa and the United States is expected to slowly spin over the open waters of the Atlantic over the next several days.
Melissa is located in an area of somewhat reduced disruptive winds, said Brian Lada, meteorologist at AccuWeather, which will be favourable for additional strengthening in the short term.
Melissa is centered about 695 miles east-southeast of Bermuda and is moving northwest near nine mph.
The reason for the subtropical classification is the storm has both tropical and non-tropical characteristics, said Lada.
The US National Hurricane Center says large swells from the storm are already affecting parts of the Leeward Islands, Puerto Rico, Hispaniola and the southeastern Bahamas.
It is not predicted to pose any threat to land in the western Atlantic as it drifts northward this week.